Many thanks to Jeff Kent (Mobile Barbarian) for sending us this detailed review of his Eee Slate EP121 from real-life business scenario perspective. Remember, this is a 2.6lb device containing a 12 inch screen and Core i5 processor. Not quite a handheld but in some respects, still an ultra mobile device.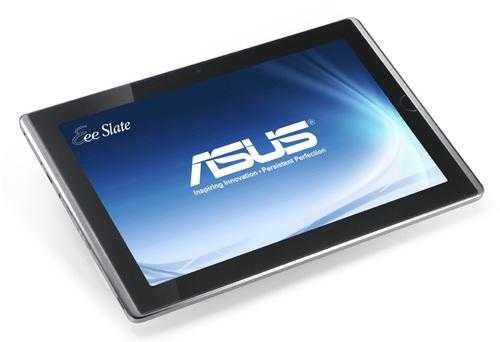 I recently purchased the Asus Eee Slate EP121. As the term "slate inch indicates, the EP121 is a slate (as opposed to convertible) tablet. While slate tablets these days are multiplying like rabbits, the EP121 is a rarer bird:
Its OS is not the typical Android or iOS, but Windows 7 (Home Premium, 64 bit).
Its screen size, 12.1 inch, is much larger than the typical 7 – 10.1 inch range.
Its screen is not just capacitive, but includes an active digitizer for digital inking!
Its specs are muscular: Core i5 (U470) processor + 4 GB DDR3 RAM + 64 GB SSD.
You also may need to be more muscular to hold it: 2.6 lbs.
There already are video reviews by professional bloggers whose video and picture taking skills far outstrip my amateurish efforts. One in particular is this review by MobileTechReview ("MTR inch), which is the source of most of the pictures in this review, and also includes a very thorough 15:21 video (referred to as the "MTR Video inch). Even Microsoft has gotten into the act with promotional videos featuring the EP121. So instead I thought I would discuss the EP121 from my perspective as a user. So you have a context for my usage, before we get to the EP121, let me introduce myself.
Who I am

My name is Jeff Kent, though my students have affectionately (?) nicknamed me Genghis Khent, and one created my avatar shown here. I live in the Los Angeles area. I have dual careers. I am a Professor of Computer Science at a local community college. I also work at a law firm as an attorney and network administrator. Additionally, I teach computer programming classes online, both for my community college and also privately for a national consortium of community colleges. In my spare (?) time I have a blog, Mobile Barbarian, that is devoted to my favorite hobby (and expenditure of discretionary funds), mobile gadgets like phones and tablets. My wife, who also is a Professor of Computer Science but is not enthralled with gadgets, tolerates my hobby because, as my blog motto states, "Mobile devices are cheaper and safer than mistresses. inch
However, mobile gadgets are a tool as well as a hobby. My job(s) duties require me to be always connected. I also am mobile, going from one job location or meeting to another. Hence, I need to be connected and do tasks when I am not tethered to my home or office base.
But this isn't a review of me, but instead of the EP121. So let's get to it!
Why a Windows 7 tablet?
Particularly for business users — and I'm one — there are mission-critical Windows applications that have no iOS or Android equivalent. For example, wearing my attorney hat, I heavily rely on software like CaseMap, which creates a database of a case's facts, issues and documents, and TextMap for storing, indexing and searching deposition transcripts. There's nothing I've found for iOS or Android that would fill their role. Additionally, even if some iOS or Android equivalent existed, there would be an issue of converting from one application's format to the other.
There's also the matter of digital ink. While tablet these days seems to equal touch, I've always regarded digital inking as the essence of what makes a tablet a tablet. I cringe at the over-use of the term "killer app inch, but OneNote is a killer app for business.
An active digitizer makes a big difference in inking. Windows 7 tablets commonly have active digitizers. The EP121 is no exception, with an active digitizer in addition to a capacitive touch screen.
By contrast, on my iPad 2, which has no active digitizer, inking feels more like drawing, if not finger-painting. Ditto with Android, except for the HTC Flyer, which does have an active digitizer, albeit N-trig, not the Wacom digitizer (which I regard as superior) on the EP121.
But is a good tablet experience possible on Windows?
OK, I've justified the need for a Windows 7 tablet. But I still want the touch to be as smooth and responsive as possible. No offence to our canine friends, but performance on a Windows 7 Tablet PC can be a dog.
Indeed, much has been written that touch is not as smooth and responsive on Windows 7 as it is on other operating systems that are tablet-optimized (iOS, Android Honeycomb). Yes, Windows 7 is fundamentally a desktop, mouse and keyboard OS. Consequently, the touch experience may not be as good as with a tablet-optimized OS. But need it be bad? I think not. In this regard, the MTR review comments:
"[T]he bigger problem is Windows' somewhat unearned reputation for being a poor tablet platform…It hasn't helped that several small manufacturers (generally Asian companies whose products arrive here online or through importers) went with underpowered Intel Atom CPUs and screens that are too small to work well with Windows. inch (Emphasis added).
I think this comment hits the proverbial nail on the head. So let's see how the EP121 addresses these two critical issues.
Brute force uber alles
I've owned other Windows 7 slates, once upon a time the Motion LS 800, later the Viliv X70, more recently the HP Slate 500. The latter two have an Atom processor, and either 1 GB (X 70) or 2 GB (Slate 500) of RAM. Unfortunately, not enough processor muscle. Often I'd have to wait a not insubstantial amount of seconds for an operation to complete. Worse, sometimes the tablet would freeze, requiring a reboot.
This waiting and freezing is at least an inconvenience. Sometimes it's more than that. The interruption can disrupt the flow of a business meeting and make you look like you don't have your act together. Worse is when this happens in court before Judges who — how shall I say this — are not renowned for their patience. Indeed, reliability in Court became such a concern that I had paper backups of everything, which sort of defeats the purpose of bringing the tablet.
Brute force usually solves such problems. So it is here.
The processor is a ULV (ultra-low voltage) Core i5 470UM. It's Intel's currently latest and greatest ULV processor. It's quite powerful. Per Intel, its clock speed is 1.33GHz, with Turbo Boost 1.86GHz, and has 2 cores and 4 threads with 3MB cache. So from the standpoint of brute force, mission accomplished.
However, it's not a Sandy Bridge ULV, as these are just coming available. The difference is not power, but battery life, an issue (and problem) discussed later.
The EP121's 4GB of DDR3-800 RAM also is plenty of brute force. Theoretically the processor (and the 64 bit OS) can support 8GB, but there's only 1 SODIMM slot, and I don't believe any 8GB sticks are yet available (and even if they were you'd probably have to mortgage your house to buy them). Nevertheless, 4GB is plenty.
The 64GB SSD is large enough and fast enough. Per the MTR review, the SSD is of SanDisk manufacture with a mSATA form factor, looking like a mini-PCI card. Of course, the SSD could be upgraded to one of the larger, speedier ones becoming available (but see my comments later regarding upgrading).
The bottom line is I haven't experienced on the EP121 the hiccups I've experienced on lesser-powered Windows 7 devices. This is very important in settings like Court where reliability is not a matter of convenience but instead mission critical.