Technical sessions at Intel's IDF in Beijing have all finished now so it's time to go through some of the presentation material, the press releases and interview information from various sources to put together a summary of what Intel are planning with Cedar Trail in the netbook market. some details are still misssing but at this stage we can put together a fairly complete picture.
Intel's netbook strategy comprises two platforms. The first, and the one that appears on most netbooks, is the Pinetrail platform. That is due for an update later this year and the new platform will be known as Cedar Trail, the one we're discussing here.
The second platform is a more specialist, low end [performance] platform that grew out of the Menlow ultra mobile PC platform. Oaktrail, which uses the Z6xx Lincroft cpu is shipping now and offers a lower TDP with refined graphics and enhanced power-saving features. Oaktrail is for embedded, tablet and thin, light and rugged netbook solutions. Information on Oaktrail can be found here.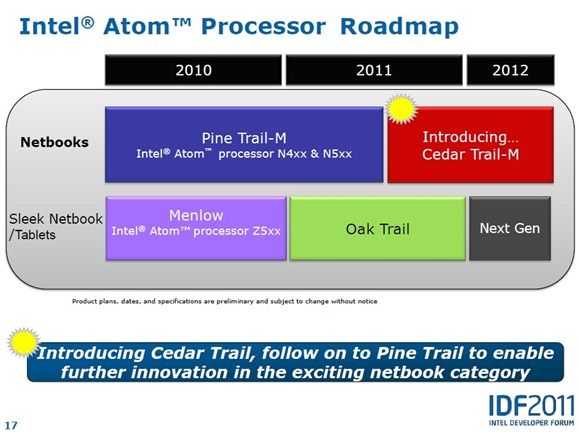 Netbook market predictions.
While excitement in the netbook sector has cooled off somewhat and most commentators agree that some parts of the market are seeing competition from tablets, the sales numbers remain significant.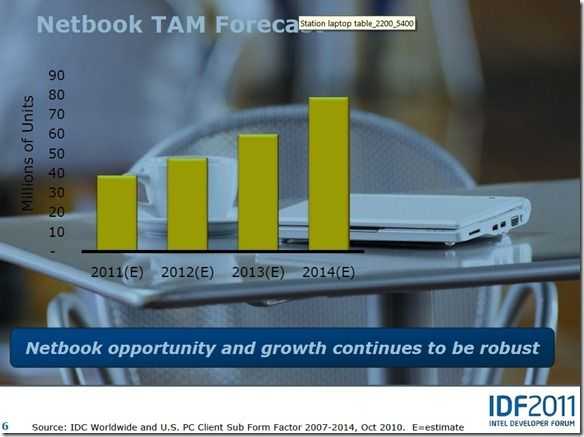 Note that this is the total addressable market. AMD Fusion, ARM and VIA-based devices will be competing for this market too. For Intel to compete it needs to address the top, bottom and specialist segments of the market.
Pages: 1 2