Cedar Trail Architechture
As you can see from the above diagram, the solution is based on a new 32nm process which will reduce size and save power over the existing PineTrail platform. It's still a 2-chip solution with the CPU/GPU (AMD calls this an APU) known as CedarView-M and the connectivity provided by the NM10 chipset but the GPU, on the CPU die as with Pine Trail,  now includes a hardware video (media) decoding unit. This will permit up to 1080p decoding. A new HDMi interface will allow this to be displayed on the latest HD TVs and monitors. The same NM10 chipset is used which means there will be be no USB3 support.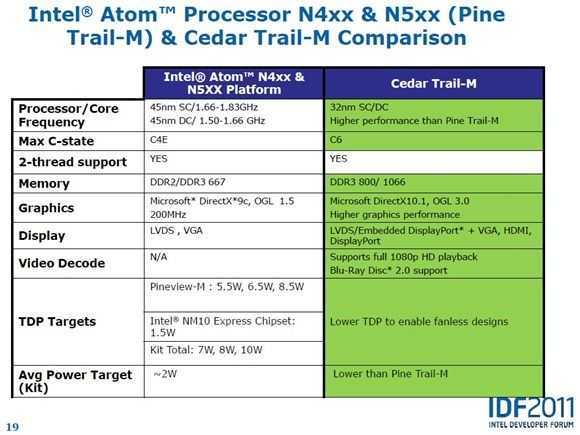 More information on the GPU is shown in this slide and includes Open GL 3.0 and DirectX10.1. Based on some background research done by one of our readers, the only Intel GPU that would fit this would be the GPU used in Sandy Bridge which could return 2X performance over the existing GMA3150 GPU. [Thx DavidC1]
We know from interviews and presentations that Intel will aim for 50% reduction in TDP. That puts it at around 4W + under 1W for the controller. Higher frequency and dual-core have also been mentioned. A 1.8Ghz dual-core version would increase the performance of the platform considerably (possibly above AMD Brazos E-350 levels) and still allow fanless designs.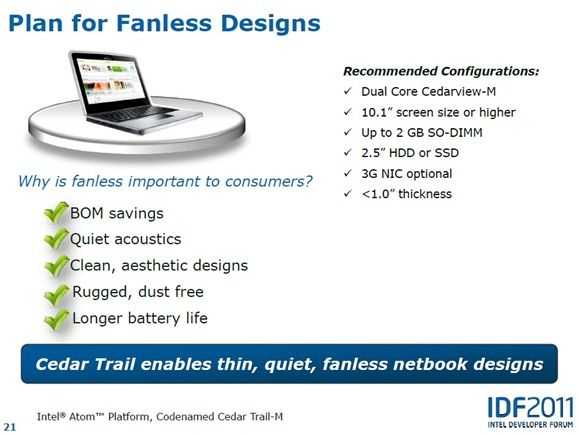 Cedar Trail Features
CedarTrail will offer some 'value add' features that are likely to be optional and only implemented in high-end solutions.
Wireless Display – Details unknown but its likely to be a 720p solution available on netbooks using the Intel wireless module. Cost of receivers in unknown
Wireless Music – Uncompressed 2.1 audio. Will require a receiver module. Logitech have already demonstrated a receiver and this will be available for $29.99. This should beat any Bluetooth audio implementation currently on the market in terms of quality. It may require use of the Intel Wireless solution so some netbooks may not implement it.
Laplink / PC Sync – Wifi-based file synchronisation. Details unknown at present.
Always Updated – Will allow applications to get updates when in standby. That's interesting wording be cause it doesn't say 'always on.' This could be linked with the fourth feature mentioned to provide quick wake, poll, sleep cycles.
Quick boot. If this is to work with Windows it could be a trick that allows very quick standby state recovery. Perhaps an on-die memory cache? Details are not available but it could be very useful, especially when coupled with a boot-and-poll sequencer. This could also be a UEFI application requiring a different boot process and operating system support. Could be a future, Windows 8 / MeeGo feature.
Pricing – Platform pricing will reduce slightly but the main cost advantages come in sizing and power budget. The smaller size and lower power dissipation means less time and material needs to be spent on the enclosure and motherboard. A fanless design could mean sealed-units which means a major saving in design and production costs. Smaller batteries can considerably reduce cost, especially when they are sealed-in units. Sub $200, 5hr units should be possible.
Intel have stated that they are aiming at a low cost $199 netbook with MeeGo for developing markets. Final pricing is, of course, up to manufacturers and resellers.
Overall, Cedar Trail looks to be a flexible platform that could scale from cheap 1.5/1.6Ghz single core parts to relatively high-end 1.8 or 2.0Ghz dual-core parts with some interesting value-add features being added in certain markets and price-points. In terms of CPU performance is is likely to scale up to the performance of the AMD Brazos E-350 solution and offer equivalent HD decoding hardware. Graphics acceleration will get a boost but it is unlikely to reach the performance of the E-350 graphics. Again, in comparison with C-50 and E-350 AMD Brazos solutions, the power envelope is likely to be smaller. Manufacturers will use this efficiency to offer cheaper solutions (smaller batteries, cases, parts costs) or high-end long-life solutions.
One question does remain – will OEMs have to buy full Windows 7 licenses (Windows Home Premium) to unlock Cedar Trail  features. With HDMI and Wirless Display, it is likely that high end-prices could rise a little because of the extra licensing cost making MeeGo a more interesting low-end solution as it evolves.
Expect more details and sample devices at Computex, June 2011
Sources: Various including Intel Press, Netbooknews and Intel IDF Content catalogue
Pages: 1 2