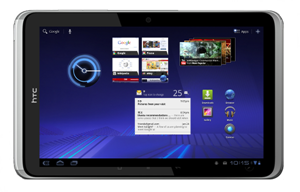 After watching the official HTC Flyer intro video, you'll see that a lot of the device's identity relies on customizations made to Android 2.2 made by HTC. The inking, for example, is completely dependent on the proprietary HTC 'Sense' UI, which has been modified from it's phone roots to play nicely with tablets.
HTC has now confirmed that the Flyer will receive an upgrade to Android 3.0 once it becomes available. On their official Twitter page, they responded to someone inquiring about Android 3.0 on the Flyer with this:
We will be offering a Honeycomb upgrade when it's made available. What feature are you most excited about?
What is less certain is how this will impact the Flyer's inking capabilities and the features that rely on the custom HTC Sense UI. For the time being, Google has delayed the Android 3.0 source-code which means that developers have not yet been able to get their hands on the raw software for modification. Google also may desire to keep a tighter grip on the modifications that they will allow to be made to the tablet-specific interface (likely to reduce the potential for fragmentation that has been seen with the smartphone version of the Android.
There's also the issue that the HTC Flyer has capacitive Android buttons built into the bezel of the device while Android 3.0 moves these into the software… which would create an odd redundancy, or force HTC to disable the buttons on the tablet (or within the software).
I've reached out to HTC to find out whether or not they'll be able to retain the important inking features, and whether or not they'll be allowed to bring the HTC Sense interface over to Android 3.0. I'll update this post if we hear anything back from them.
via NetbookNews
Update: HTC has responded, rather vaguely, when asked if they'd be able to make Sense and inking customization to Android 3.0 with the following:
HTC will continue to implement the popular HTC Sense experience on future Android updates.
I've asked for further clarification, but this seems to indicate that there will be no barriers to adding HTC Sense and inking to the Flyer post Android 3.0 update.