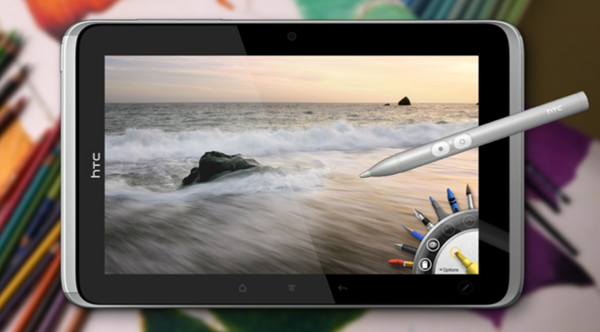 The upcoming HTC Flyer [tracking page] is one of the only (if not the only) Android tablets that is built specifically with stylus driven input in mind. NotebookItalia.com has caught a video of an artist demonstrating what it's like to use the Flyer as a drawing tool.
I don't speak Italian, but the video gives us somewhat of an idea of what experience you can expect from inking on the HTC Flyer. My initial feeling is that while the N-trig capacitive/active digitizer screen will feel great for digital inking, the software on the Flyer is going to determine how seriously this tablet could be used for art.
I'm no artist, but from what I understand, layers and a robust brush tool are vital to creating digital hand-drawn art. Artists need to be able to selectively work on various layers of their projects, and need to have a huge brush-head selection to be able to do mass-outs and draw textures what would be difficult to achieve with manual strokes.
At first glance, HTC's drawing application might look ok, but a major roadblock that I can already see is that brush sizes appear to be quantized, meaning that only specific pre-set sizes can be chosen, rather than being able to select from a virtually unlimited number of possible brush sizes. Layers also don't seem to be present, so when if you are looking at the Flyer as a seriously digital-drawing art tool, you might be better off sticking with your Wacom pads. Drawing (not writing, mind you) on the HTC shift appears to be more useful for simple sketches than masterpieces.
Digital ink for note taking, however, will likely be well received to people unfamiliar with using a real stylus and active digitizer. HTC has talked about Evernote integration on the Flyer which happens to be my go-to digital ink (and regular text-based) note taking app, so they definitely picked a good ally in this department.
The on-device inking experience might not be up to professional artistic standards, but HTC could potentially pull a Notion Ink and allow the Flyer to function as a wireless drawing pad for a full blown computer. The Flyer appears to have pressure support (a must for life-like digital inking), so conceivably it could work as wireless drawing pad when linked up to an application like Photoshop. HTC hasn't yet announced such functionality, but here's to hoping (or at least a clever third-party implementation)!
The HTC Flyer is launching in the UE region on the 8th of May for a steep $792 (479 pounds) for the base model. Thus the Flyer is unlikely to be anyone's first choice as a dedicated digital inking pad as Wacom's industry-recognized Intuos drawing pad line starts at $299.
[via netbooknews.com]