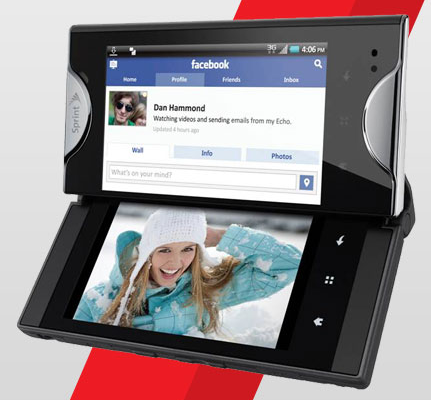 Laptop Mag has posted an (obviously) thorough review of one of the most interesting Android phones released in recent history, the Kyocera Echo. Laptop Mag also has a great gallery for the device.
The Echo, which was announced back in February, is the first dual-screen Android phone, featuring two 800×480 screens which can be used simultaneously with one application for a combined 960×800 space, or used for two applications at the same time. The Echo is available exclusively from Sprint for $199 on a new contract.
The reviewer, Avram Piltch, seems to generally enjoy the Kyocera Echo, but notes that the device "won't win any beauty contests, inch and I'd have to agree, but that's not a show-stopping issue for many.
Only a small number of applications currently support the ability to use two screens with two separate applications, but what's there seems to work quite well, including a browser that has an option to open webpages on the other screen (sounds handy).
Piltch lists the lack of 4G as a downside to the device as well short battery life (though a second battery is included).
I haven't had my hands on the Kyocera Echo, but my prediction is that the biggest challenge to this being a successful device is attracting development that will support the unique phone down the road. It's great that any application can span both screens, but I feel like real improvements in usefulness will come most from applications that are designed specifically to be used with two screens. It's unlikely that this sort of development will reach critical mass with only one product on the market that sports such screens, but the Echo stands a good chance of at least attracting enthusiasts and perhaps fostering a niche community. I must commend Kyocera for working on a novel approach that doesn't feel like every other decidedly cookie-cutter 1GHz phone from 2010/2011.