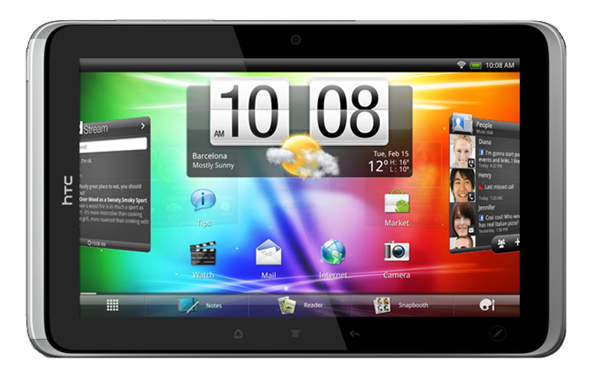 Jkk (via SlashGear) posted this video of the HTC Flyer tablet earlier today. It gives a good idea of how HTC expects people to use their first Android tablet (though we can't forget about the HTC Shift!). None of what you'll see in the video is footage of actual use though, it's all proof-of-concept. Have a look at the video below, and scroll further down to see Chippy's brief inking test with the device at CeBIT.
The video shows off the HTC well, but it's important to look through the marketing speak. After some time with HTC's 'Sense' UI on Android, I'm not looking forward to the version that's designed for tablets. It looks like they've bulkified their already-chunky widgets for use with the bigger screen.
The section about gaming is very interesting but will probably go overlooked by most because the video didn't give a lot of info about it. HTC has made a sizable investment in the cloud gaming service OnLive, according to SlashGear, and there will be a version of their controller than can connect to the HTC Flyer and allow you to play console quality games through it. There's also a virtual on-screen controller option but that's pretty much a joke if you are trying to play any real-time game. This will be the first Android tablet with OnLive integration and could give HTC an advantage over it's competitors if the service stays exclusive to HTC. With the service you can be gaming on your computer, then pause the game and pick up right where you left off on the Flyer, that's pretty darn cool.
It's clear that HTC has taken a lot of inspiration from the LiveScribe, and they are saying that inking and notes will be integrated with Evernote which is really good news. The closer that HTC can work with Evernote, the better. Evernote has a lot of experience with (PC) tablets and note taking. I'm just hoping that the integration will be sufficient to create wholesome workflow. Without thorough integration, people are still going to have to lug their computers around to work anyway, which sort of defeats the purpose of attempting to relegate everything to a tablet. Google Cloud Print could also be an important piece to the all-in-one productivity puzzle that HTC appears to be aiming for.
As for the 'write anywhere' capability, it may be less useful than it seems. After looking at Chippy's test with the inking (video below) it appears as though as soon as one writes on the screen, it immediately takes a screenshot and then annotates the screenshot, instead of actually interfacing with the content on the screen. That's just a guess though and it's early software, so we'll have to wait and see how it really pans out.
One thing that I'm not happy about with on the Flyer (other than the ugly white plastic on the back) is the lack of pen-silo for the stylus. Despite how much they'd like to say that the Flyer is totally designed for inking, I don't know how convinced I am if there is no way to store the stylus on the device. Folks are not going to want to haul that around as a separate piece, especially if they don't use it all the time.
Here's Chippy's brief hands-on with inking on the HTC Flyer: