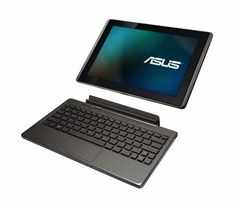 I'm a smartbook fan. I want to see the netbook form factor extended right down into the mobile operating space by including always-on, location services, sharing, dynamic user interfaces, a huge app store and access to music, video and books as well as apps.
I also want to see the applications on the mobile operating systems mature to the point where I can run my business on them and right now, one of the most interesting mobile operating systems, and one that has made more progress than any other crossing the chasm into productivity and desktop worlds is iOS. The problem is, I don't like the restrictive nature of iOS products for productivity work so I'm personally very excited about where Honeycomb is going.
I've tested Android 1.x on the clamshell Compaq Airlife 100 and 2.x on the Toshiba AC100 so to follow-on I've ordered an Asus Eee Pad Transformer which is running 3.x. Not only will this be a great smartbook test, it will also be the first 10 inch ARM-based tablet that I've owned. With the Galaxy Tab so woven into my daily life, it will be interesting to see if the Transformer has any impact there.
Through my social circle I see that there's quite some interest in the Transformer. I think we all know it's NOT going to be a business device from day one but the point is, it's an important device to test and one that could mature well through 2011.
I'm unlikely to be one of the first to get one as high-street availability has already been confirmed in the UK and I won't be picking mine up until next week when I visit my folks in the UK.
Naturally I'll be setting up a LIVE REVIEW for when I get back home and this is provisionally planned for Friday 22nd April at 2100 Berlin time. We'll go over the device and run through some Honeycomb tests, video playback tests, battery life tests and a whole suite of application tests including some productivity applications. I'm also interested to see how the USB host functionality is implemented.
I paid 429 UK Pounds for the 16GB version with docking station that should start to ship on the 18th. That's not cheap compared to the Toshiba AC100 but it's a  reasonable start price. You'll see this for 25% less in a very short period of time I'm sure. There's no 3G though so it means I'll be carrying my MiFi or, strangely, the Galaxy Tab as a 3G hotspot.
16hrs battery life in 1KG is a stunning runtime figure but if the OS and applications can't deliver, those 10 extra hours are worth nothing!
Stay with me, here on Carrypad, for testing next week.