If you measure the power used by a netbook PC when it's in standby, a frozen unusable state, it uses around 500mW of power.  Leaving a netbook on with WiFi connected in an idle state with the screen blanked, maybe with an email program polling occasionally, you'll see about 10 times the power usage. In PC terms, 5W is impressive but if you go to the smartphone world and take a look at the figures there, there's a huge huge gap that needs to be tackled. As smartphones become tablets, become smartbooks, there's a threat that 'always-on' becomes 'must-have' and that X86-based devices will struggle to compete in casual computing scenarios.
Smartphones are designed from the ground-up around the concept of 'always-on. From the moment a smartphone is conceived, every element of the design has to be checked for power consumption which is why a smartphone can sit connected to the GSM telephone network drawing power consumption levels lower than 50mw. That's 1/10th of the power consumption taken by a good netbook when it's in a frozen state. Impressive.
But what happens when you connect a smartphone to the internet ? You can use cellular data services to achieve a good rate of connectivity by switching on UMTS for example. Switching to WiFi on a typical smartphone brings faster connectivity and, in a lot of cases, lower power that can be done on cellular networks. A smartphone can run a multitasking operating system and remain connected to internet and voice networks in well under 500mw of power, the same as it takes a netbook to sleep.  In fact, the best smartphones are running in this configuration for over 24hrs on a 5Wh battery which is an amazing 100mw of power usage. Turn on some background internet activities and it will jump to an average 200mw!
What happens if you take an ARM platform that's in the same processing power category as a low-end netbook. Put it in a 10 inch screen form factor and do the same test? Actually, it's the same as a smartphone. The only difference between a high-end smartphone and a smartbook with a 10 inch screenand a huge battery is the screen itself and when that is off, there's practically no difference at all.
To prove this, I took one of the most powerful mobile computing platforms in a large 10 inch form factor device with 32GB of storage, 1GB of RAM and integrated WiFi. The device has a 23wh battery (about half that of '6-cell' netbooks. The device is the Acer Iconia Tab A500 Android tablet which runs honeycomb. I connected to the Wifi (at 54mbps) and left the device connected with the screen off while it did it's stuff in the background. Marketplace checks, email checks, Twitter checks and even some GPS usage by Google Maps. A weather service was running, the volume was set to silent and Bluetooth was turned off.
Over a 48  hour period with a few screen-on moments for checking progress (and a 10 minute in-use period as my daughter grabbed it to use a paint program)  I measured 46% fall in battery usage of which 5% was due to screen-on time. Take away the screen-on figure and you have 209mw of power usage.  The Acer Iconia Tab is nothing more than a smartphone inside!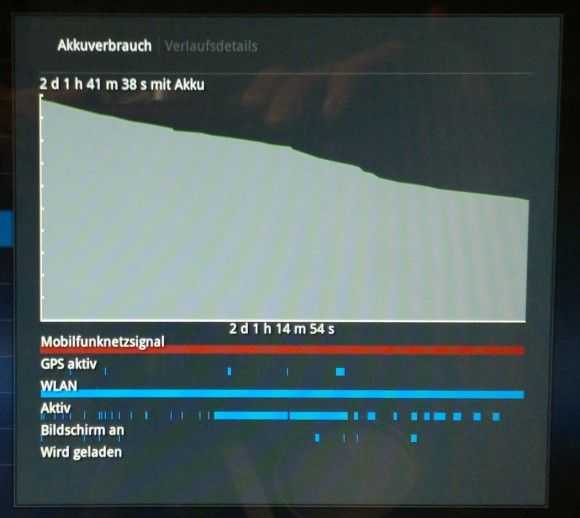 'Always-on, Always Connected' will be a 'Must-have.'
Always-on tests are interesting because it's a hands-off test that people think only applies to idle smartphones.  In fact, it applies to many computing scenarios. With location, polling, sync, presence, alarms, push updates and of course, cellular voice and messaging becoming the norm in the hand, they will also have appeal on the desk. Not having to wait 5 seconds for a machine to start-up, another 5 seconds for a Wi-Fi connection and another 10 seconds for tweets, emails and other features to catch up is annoying.  There's also a bunch of other screen-off, connected activities that are interesting. Servers for example. By that, I mean computers and gadgets that serve information to the Internet. This doesn't just cover web servers. Think about internet-connected weather stations and web cameras, in-car data storage and notification systems. Then there are the devices that just don't need big screens; Connected musical instruments. Digital cameras with 3G. Internet Radios. Low-power internet connectivity is important for these devices.
Summary
The point here is not to highlight that ARM is better than X86, it's to highlight the gap. This gap is currently a huge advantage for ARM-based platform designers.
The first point is, if manufacturers using X86/PC architecture don't get products to market with active standby soon, with the help of Intel (the only X86 player trying to tackle this problem) customers will have a chance to experience, and may not turn back from, ARM-based always-on products.
The second point is that this is a screen-off gap. Current screen technology is killing ARMs advantage in the 'in-use' scenario where screens are larger than 7 inch. It reduces the ARM advantage from 20x in idle to about 4x with a 10 inch screen being backlit. When the devices CPU is being actively used, the advantage drops even lower to around 2x. [Acer Iconia Tab 4W. Samsung NC210 8W)
Finally, the Acer Iconia Tab A500 is a good example of low-power internet connectivity. It's likely that other devices in this ARM tablet segment hit the same figures.
Keep an eye on high-end ARM-based platforms over the next year or two. Honeycomb and iOS are leading the way into the professional space with their software and application ecoystems and you might find that this always-on advantage starts to lock people in soon.