Thanks to everyone (350+ people) that dropped in on the live session with the Acer Iconia Tab A500 last night. I have to say that there's no better way than to spend a focused 3 hours testing a new device than with a camera and knowledgeable audience!
We recorded three sections of the live session and the important notes and videos are below.  I will continue to test the A500 and if I find anything of major importance, will report it here. You'll find further reports on Honeycomb over at UMPCPortal as I take on the task of tracking productivity apps that become available in the ecosystem.
So far I'm seeing good hardware from both looks, materials and an efficiency perspective but a number of software problems from the OS to the apps level that really fall below expectations. At 499 Euro I would expect to see multiple video codec support, a supplied micro HDMI cable and at least a simple stand or case. With the stability issues and application issues seen,  it raises a red flag at the moment. Unless you need the Iconia Tab A500 (and this applies to the other 2 Honeycomb Tablets available right now) I'd say wait for two things. 1) Price drop of about 15-20% should arrive within months. 2) Asses ongoing firmware updates and progress of Android applications for Honeycomb. Of course, you'll also need to track future products from competitors. The Galaxy Tab 10.1 is likely to be available in the next week or two.
Notes:
Battery life: 6hrs full use. WiFi, 50% screen, testing. I suspect you could run it dry by gaming on it for 5 hours but on the other hand, you might get more than 6hrs use if you're gentle on it.
Battery life: 100hrs on, WiFi,  screen off. In idle state, with the Wifi on and screen off and with the device set to synchronize various apps, it will last between 75 and 100 hours. (Up to 4 days.) That's a good figure.
Here's the battery drain graph showing our testing, an overnight 'sleep' and some work I did with it today.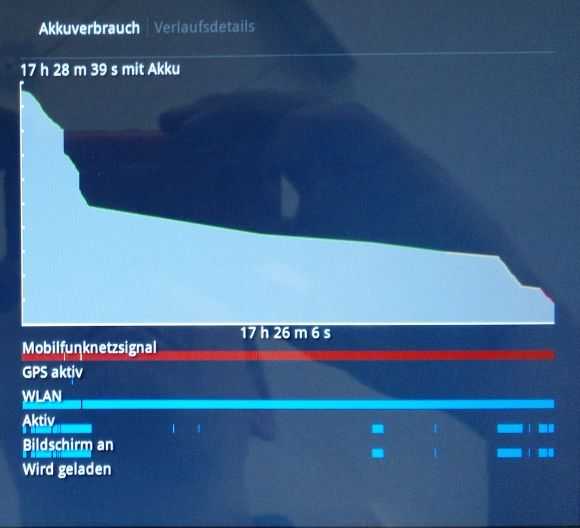 More notes:
Honeycomb observation: Why no HD available through YouTube application?
Stability. When using a USB keybaord the device crashed 4 or 5 times. I also saw the A500 crash twice without the keyboard but under heavy testing. Stability could be better.
Screen resolution and viewing angles are very good. Color, contrast too. Brightness average.
PDF one-page view is readable. That's something you can't do on a 7″ tablet, whatever the resolution.
Speakers clear, loud
Finish of design is excellent. Metal back gives it a stylish look and feel.
MicroSD card works. 3G Card slot is blocked off on this Wifi-only model.
Docking port was a surprise. No details of what is passed through that though.
No MicroHDMI cable supplied to test the HDMI output.
No extra codecs. (WMV, Divx and other formats don't play) Have yet to see a 1080p file play back on the device.
Camer quality and video quality is so-so.
Gtalk video quality also, so-so. Easy to use though.
Weight (and this applies to many 10″ tablets) is still too heavy for one-hand holding for any length of time.
No built-in, or supplied stand
No USB mouse support
USB keyboard and mass storage supported. 3G dongle not tested.
Honeycomb apps seem few and far between. Existing apps in Market are often for portrait mode only and do not use all the space well.
Performance is comparable with other Honeycomb/Tegra2 tablets.
There's possibly a Gyroscope sensor that improves responsiveness in games that use it. (Unconfirmed)
Compass, GPS confirmed.
Skype audio works without headset (built-in mic and speakers work. Rear faceng speakers help cut down feedback)
Google Earth impressive
No noticable heat build-up
Power cable only 1M in length
Approx 28GB of 32GB free for user storage.
Acer includes non-standard multimedia apps.
Videos:
Part 1 – Overview
Part 2 – Testing Browser and Performance
Part 3 – Further testing. Video, Cam, Batt, USB