Announced on stage at Computex 2011 today is a new category of devices from Intel called ULtrabooks. The idea is to take the mainstream laptop down into a smaller, low power form factor. The UX21 from ASUS is the first Ultrabook product to be announced.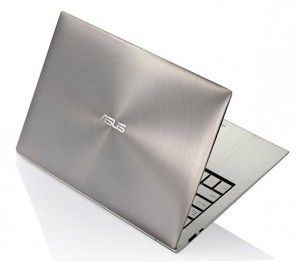 Intel also outlined the Ultrabook in a press release:
The "Ultrabook™"

Intel's vision is to enable a new user experience by accelerating a new class of mobile computers. These computers will marry the performance and capabilities of today's laptops with tablet-like features and deliver a highly responsive and secure experience, in a thin, light and elegant design. The Ultrabook™ will be shaped by Moore's Law and silicon technology in the same way they have shaped the traditional PC for the past 40 years.

Maloney described three key phases in the company's strategy to accelerate this vision, which begins to unfold today with the company's latest 2nd Generation Intel® CoreTM processors. This family of products will enable thin, light and beautiful designs that are less than 20mm (0.8 inch) thick, and mainstream price points under US$1,000. Systems based on these chips will be available for the 2011 winter holiday shopping season and include the UX21, ASUS* Ultrabook™. ASUS Chairman Jonney Shih joined Maloney on stage to showcase the company's new ultra-thin laptop based on the latest 2nd Generation Intel Core processor.

"At ASUS, we are very much aligned with Intel's vision of Ultrabook™," said Shih. "Our customers are demanding an uncompromised computing experience in a lightweight, highly portable design that responds to their needs quickly. Transforming the PC into an ultra thin, ultra responsive device will change the way people interact with their PC."

Building on the latest 2nd Generation Intel Core technology, Maloney outlined the next generation Intel processor family codenamed "Ivy Bridge," which is scheduled for availability in systems in the first half of 2012. Laptops based on "Ivy Bridge" will bring improved power efficiency, smart visual performance, increased responsiveness and enhanced security. "Ivy Bridge" is the first high-volume chip based on Intel's 22 nanometer (nm) manufacturing technology that uses a revolutionary 3-D transistor design called Tri-Gate announced in May. Maloney also highlighted complementary USB 3.0 and Thunderbolt™ technologies which are part of Intel's ongoing work to drive the PC platform forward.

Following "Ivy Bridge," planned 2013 products codenamed "Haswell" are the third step toward achieving the Ultrabook™ and reinventing the capabilities of the laptop in ultra thin and light, responsive and more secure designs. With "Haswell," Intel will change the mainstream laptop thermal design point by reducing the microprocessor power to half of today's design point.