Its true! You' might have heard about it at Slashgear, Engadget or The Unwired but I've made a few phone calls and sure enough, there's stock available in Europe. The HTC Flyer could be in your hands in 24hrs.
Full specifications, links, videos  updated in our product page.
The HTC Store in the UK has the 3G version available for order today. Its £599.99 . I called Expansys, who run the store and they confirmed stock. I'm close to ordering one for a live session next week.
Update: It's ordered! I'm looking at Tuesday 2100 CEST for the live session. Stay tuned for more details.
Brightpoint are distributing in Germany and you should see the online stores get stock over the weekend as it gets distributed. Look out for it in carrier shops (likely T-Mobile, Vodafone) on Monday.
It's not clear if the  Magic Pen (ST D500) is included but I wouldn't expect it based on recent news.
Update: Expansys say it's in the box: "Box content: Pouch PO S580, Data cable, Magic Pen ST D500"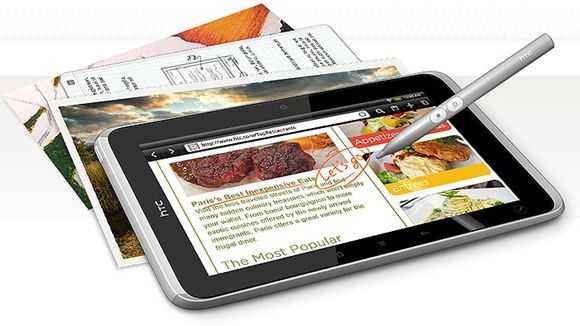 Based on the popularity of this one, I'm prepared to go out and buy it for an intensive review. BUT, for the live review event I want to test Ustream pay-per-view. I'll set the bar at $1.50 which allows you to view the ad-free live stream and chat (also behind paywall.) It will be a 2hr+ session and if you've been in a live session with us before, you'll know we usually find all the warts! The session will be recorded too and put up on YouTube (free) after the live session along with the show notes. Why pay-wall? Because if it works, we can finance more devices for more live sessions and reviews. $1.50 isn't a bad price to pay to get an independent advisor answering your questions is it?
Either way, let us know if you're interested in this one. Or are you waiting for the Iconia A100 or Viewpad?