It seems that every new app store has it's version of Angry Birds but what we're seeing demonstrated tonight takes Chrome OS a big step further into that land of the impressive PC. Boot and ready within 8 seconds. 3G. GPU acceleration.
Googles Chromebook web pages are available here.
UK France, Spain, Germany, Netherlands, US, Italy are getting the first Chromebooks on June 15th.
Samsung, Acer have 12 inch versions coming with an Intel 'dual-core' CPU which we suspect is the N550 or N570. [Confirmed: N570 for both Samsung and Acer via Amazon.com]
Acer and Samsung Chromebook full specs and pics here.
These pictures are from 'This is My Next' who are currently live blogging the event.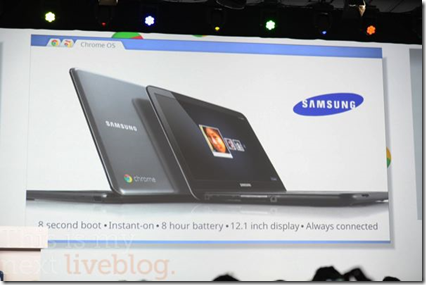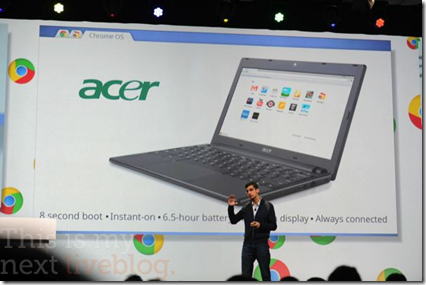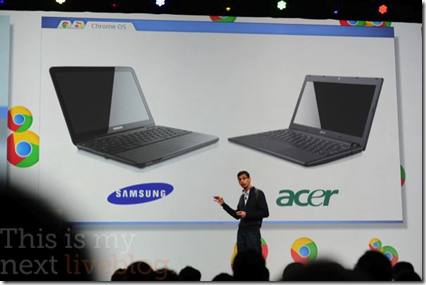 Also mentioned was in-app purchasing for a flat rate of 5%. That undercuts other markets by a long long way.
But are these ultra mobile? Not at the moment they're not but think about this.
Google have just thrown legacy PC support out of the window which clears the way for a new type of platform. The big thing that holds PCs back from always-on is Windows and legacy support. Chrome could be built on ARM or the new Intel mobile platforms now for an even lighter, smaller, longer battery life device.
12 inch is likely to be a sweet spot, I agree, but there's some scope for ultra mobile versions here. Getting rid of PC legacy means more efficiency.
The 'cloud' has it's issues in terms of mobility of course but it's up to the app developers to solve this problem with cached applications. We've heard that Rovio have build a version of Angry Birds that can runs completely offline in Chrome OS. Other developers can do this too.
Video time. . .
Google closed the Chromebook keynote speach with the annoucnement that everyone at the keynote would get a Chromebook. Wow!
More videos: