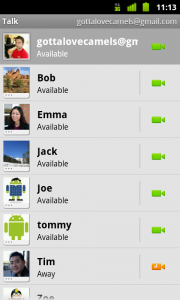 An announcement on the Google mobile blog tells us that Google Talk with video and voice chat will be released to Nexus S [product page][review] devices in the next few weeks as part of the Android 2.3.4 update. This is great news in itself, but once you realize that it's only for Android devices running Android 2.3 or higher, you'll see why it's actually sort of upsetting.
According to data released from Google Android 2.3 only represents 2.2% of current Android devices so it may be a while before we see it on the majority of devices out there. Froyo (2.2) is currently the most popular Android version with 63.9% of devices.
Some neat features include: while video chatting, any text chats from that person will also appear overlaid on the video; also when switching to a different application while video chatting, video is paused but audio continues to run in the background. Unlike Apple's Face Time, the Google talk video works over Wi-Fi and 3G which is nice. The app will work with desktop users (which includes Mac/PC/any platform that has a browser than can access the webcam) by enabling video chats from within Gmail.
For Android users it seems like this might be a good option if you need video calling functionality for your device, PC, tablet or smartphone, but it's a ways away for the majority of users out there. There's still no real news on when Skype will add video calling support for Android and indeed it's hard to think what to make of the recent announcement that Qik was purchased by Skype for around $100 million.
Google has a short video showing Video Chat in action: