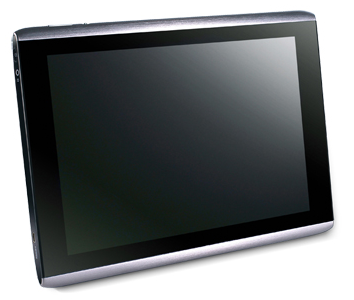 I managed to snap off this quick video testing HDMI out on the Acer Iconia A500 [tracking page]. The retail unit doesn't include a HDMI cable (it requires a mini HDMI connector) so I had to scrounge one up to test it on a monitor. I shot it with the Motorola Atrix [tracking page] so you'll have to excuse the sometimes shaky video but I was keen to see and share how the HDMI worked. The video test shown is using the Windows 7 sample video "Wildlife" and is a wmv file shot in 720p HD I find it's quite a good test as it challenges a lot of PC's to play it without skipping frames. The Atrix, and the Viewsonic Gtab play it without issues. Since the included media player on the A500 couldn't play the wmv I downloaded, I installed Rockplayer Lite and while it played the file it was very jumpy.
Being able to play videos or view slideshows on a big screen is a great feature for using this tablet in a business setting but unfortunately I wasn't able to play the architectural render that one of my co-workers needed to show at an afternoon meeting so he had to take the laptop.
If you are interested in the Iconia A500, don't forget to see Chippy's extensive testing session and notes!
You might also notice I used the Sniffer file explorer (from the Notion Ink Adam [tracking page]). Since the A500 comes with both a full sized and mini USB connection, which enables simple file transfer and is a great connectivity option for all kinds of USB peripherals, I was surprised and a bit disappointed to find that there was no file explorer included out of the box. I actually installed Sniffer using dropbox so I could access some files for testing off a USB thumb drive. I actually prefer Sniffer over other file explorers as it is intuitive to use and has some nice features I haven't found on other such as the simple copy and paste functions.