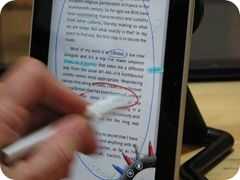 HTCs Flyer is one of the first Android Tablets we've seen that could find a place in some new niches; Namely, pen input. From the outset I need to make it clear that the HTC Flyer isn't a professional handwriting recognition product. There is no on-the-fly character recognition. There's also a disconnect between the digitiser layer, the HTC pen-enabled apps and the rest of the finger-controllable tablet.
What is interesting though is the way HTC have enabled 4 apps that could be perfect for many people.
There's a note-taking application which spans standard test, pen-based text and 'scribbles' image and audio that is backed by the excellent Evernote service.
There's a PDF application which allows you to highlight and annotate over PDF files and save in the PDF format. This is one of the easiest ways to sign a PDF that I've ever seen!
Thirdly, and this one impressed me more than all the other pen-enabled apps, there's a book-reading application that allows pen-based selection, highlighting, annotation and note-making. It's powerful and I can see this helping students to study.
Finally, you can annotate images in the gallery.
HTC obviously have an API suite for 'pen' on Android so I hope to see more pen-enabled apps soon. Enjoy the video.
Tonight, May 18th at 2100 CEST (Berlin) we're holding a live review at Carrypad.com/live Join us for chat and get your questions answered.