JKKMobile has been quiet lately but if you've been listening to the MeetMobility podcasts you'll know he's been working on something with Cupp Computing in the background. He's just made the fruits of his work public and it's a stormingly disruptive device. Yes, we just created a new word for this product!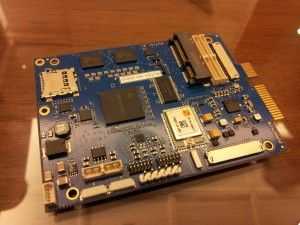 Remember the HTC Shift and its ability to switch between X86 and ARM CPUs? It was a fantastic idea let down by a rather basic implementation. Punk This goes one stage further and not only enables a way to switch between two operating systems but it integrates hardware in a flexible way as a retro-fit to an existing X86 PC.
You get your mobile operating system on an ARM-based computer and the ability to switch between it and the existing X86 based PC that hosts it. In simple terms its a keyboard, mouse, screen, USB port, audio port sharing device with self contained CPU, WiFi, RAM, USB and memory. The on-bard PCI-E Mini slot allows you to add the lost storage in via an SSD module.
How?
View the video below and take a look at how the board would slot in place of a 2.5 inch HDD and provide the single-board-computer (SBC) connectivity and piggyback storage to replace the lost drive. You'll see JKK switch instantly between Windows and Android. Obviously, if the Windows part is put into standby, you get the ability to run your mobile operating system as a kind of smartbook with  all the battery life advantages. 10hrs is possible according to JKK. It's not limited to Android. Ubuntu and other builds are in the mix too!
Apparently this is planned to be available in 8 weeks for a price of under $200. Add the SSD storage and you've got a very interesting package. Congratulations to our friend, JKKMobile and Cupp Computing for pulling this together. We'll be talking this over in detail soon and I'm sure we'll be getting a sample! Anyone else interested?
Specs:
* TI DM3730 1.0Ghz A8 processor
* 512 MB RAM
* Micro SD System Memory
* Mini PCIe SSD for PC C: Drive
* Micro SD for Shared Drive
* WiFi
* USB ToGo
* USB Host
* Keyboard Controller (User Reprogrammable Keyboard Controller)
* Audio I/O
OS Development
* Ubuntu
* Android 2.3 (to be updated as new releases become available)
* Open Platform
IN addition, CUPP are working on a enclosure for this as a kind of Nettop device.
Source: JKKMobile