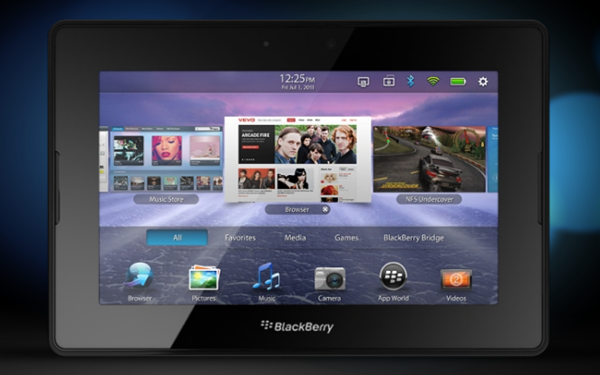 At the BlackBerry World 2011 conference, RIM demonstrated its upcoming Android Player application which will allow PlayBook [product page] users to run Android applications. This could be the gambit that RIM needs to get up to speed in the app sector while seamlessly enhancing the user-experience.
What impresses me is that the device doesn't have access to the source-code of the Android applications that are running. It's actually able to run the application straight from the binary package that would be distributed to any Android device. Have a look at this in action:
The integration here looks rather seamless. I was assuming that things would get confusing for consumers because of the difference in controls between native PlayBook apps and Android apps, but according to these fellows, the gestures (menu and home button) are mapped identically between the two types of applications. This means that users will be able to use without having to think about whether they are native PlayBook apps or those that were originally intended for Android. This also means that Android developers can create a single application then distribute it to the PlayBook and Android devices; a win-win-win for consumers-developers-RIM.
Android applications on the PlayBook won't be restricted to those who know how to sideload applications. RIM says that Android apps will be distributed right from their very own BlackBerry App World application store, providing ease of use for the consumer from instillation to operation.
Sadly, RIM's PlayBook launched before this functionality (and arguably even core features) was ready for prime-time. The Android Player is slated for release some time this summer. The sooner the better, I say.