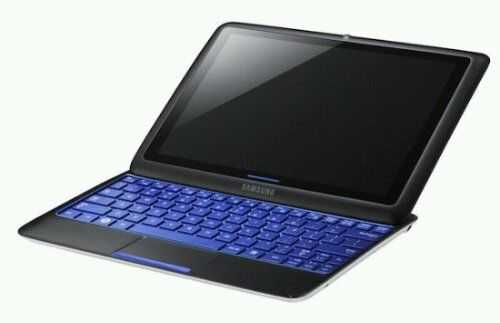 We've just put the Samsung TX100 specs in the database along with an expected launch price of $699. It's been confirmed today though that the Pc7 series / TX100 is going to come in, with a 1.5Ghz Oaktrail / GMA 600 processing engine, 32Gb ssd, 2Gb of RAM and Windows 7 Home Premium for $649.
http://www.netbooknews.com/24590/samsung-series-7-hybrid-tablet-up-for-pre-order-at-amazon/
Those of you thinking about $299 netbooks might be a little shocked at the price but remember the TX100 is aimed at flexibility and portability with a good battery life. Windows 7 may not excite you either but its productive, plus, there are two more operating systems on the horizon that should sit well with the Oaktrail platform. Meego is still in progress and should be well optimized in terms of power efficiency but more exciting to the masses is the possibility of an official Intel Honeycomb build. It is being worked on for Oaktrail, Moorestown and Medfield although neither Intel or Samsung have mentioned anything about it. They should because I'm sure there are people put there interested in the advantages of a 2-way virtualised OS build.
The CPU could be a little weak compared to dual-core Atom Netbooks but if it has a fast SSD, it should help along with the 2x boost in GPU power over previous Menlow devices.
The TX100 is an important device for Intel. Samsung have done great work with mobile Intel devices in the past, lets hope they also do a good job with this one.
Posted from WordPress for Android with the Galaxy Tab