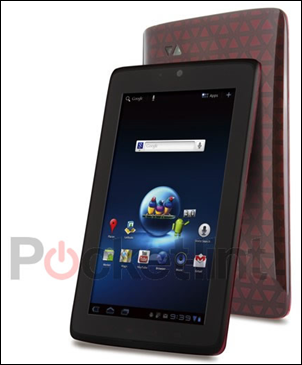 According to Pocket-Lint.com, citing "reliable sources", ViewSonic is poised to launch a 7" Android tablet that will run Honeycomb (check out the shape of the cam and flash in the photo… pretty wild).
You'll no doubt recall that ViewSonic already has a 7" Android device on the market, the ViewSonic ViewPad 7, but it's only running Android 2.2 and rocking out a relatively weak 600MHz CPU.
The updated ViewSonic ViewPad 7x, as it's called, won't replace the ViewPad 7 according to Pocket-Lint, but will merely sit next to it as a premium option. If money isn't an object then you'd be wise to pick the ViewPad 7x over the older model as the 7x will be rocking out an Nvidia Tegra 2 dual-core CPU. Other details are relatively slim at the moment; all that's been confirmed is the usual front/rear cams, DLNA support and HDMI-output (likely mini-HDMI) and a weight of 380 grams — slightly heavier than the similarly sized Galaxy Tab [tracking page].
We could tell you when exactly ViewSonic plans to announce the 7x, but we think it'd be nice if you stopped by Pocket-Lint for that info. Go ahead, we'll wait.
…
Are you back? Well now you'll see that it looks like it'll be a race to the market between the ViewPad 7x and upcoming Acer Iconia A100/A101. Who's your money on?
It's unclear whether or not the device will be launching with Honeycomb 3.0 or 3.1. Either way, hopefully the recently announced update-alliance will ensure that the device receives updates in due time.
We plan on getting our hands on one of these devices down the road for some in-depth testing, stay tuned!
Update: We've confirmed through our sources that the device will indeed be launching at Computex.