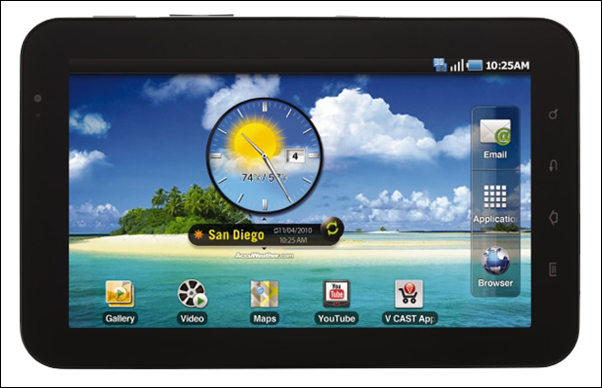 You'd think that creating a WiFi-only of one of the most popular 7 inch tablets would be as easy as not installing the components that make cellular communication possible, but it looks like Samsung may have made some more significant changes to their WiFi-only Galaxy Tab which appears to be using an older CPU and a slower GPU.
Perhaps as cost-saving measure, the WiFi-only Galaxy Tab is using a "1GHz A8 Cortex processor inch according to the official product page inch, while the 3G equipped version of the Galaxy Tab is using a "C110, 1GHz, Cortex A8 Hummingbird inch processor.
Both devices are using 1GHz A8 CPUs, but the 3G equipped version of the Galaxy Tab uses the PowerVR SGX 540 GPU while the WiFi only version is using the previous generation.
Folks over at the XDAdevelopers Forum have confirmed that the WiFi-only tab is using the PowerVR SGX 530 GPU instead of the SGX540. The PowerVR SGX 530 GPU corresponds to an OMAP 3630 CPU as seen in the Archos 70 tablet.
We haven't had out hands on the WiFi-only Galaxy Tab to find out how this change impacts performance, but here's a tidbit from a user on the XDA forum:
"I need only wifi so I bought wifi version. However I found the performance is not good. I see noticeable lag when pulling down the notification bar. I go and check out 3G version. It's lot better. inch
Let's also not forget that Samsung is planning on bumping the Galaxy Tab's CPU to 1.2GHz (in addition to some other specs) when they release the 4G version on Verizon, so it seems that this single product is actually turning out to be three different products.
We've reached out to Samsung for an official comment and will update when we hear from the company.
Thanks to the tipster slim_thumb who sent this in!
Update: Looks like the GPU isn't the only thing that Samsung has downgraded for the WiFi-only version. According to the official product page, the WiFi-only Galaxy Tab is using Bluetooth 2.1 instead of 3.0 as on the 3G equipped version. This could be a clerical error on the site, a software restriction, or truly downgraded Bluetooth module. We're still waiting to hear back from Samsung.