The Z-01 APU was announced yesterday in a blog and press release but AMD have just demonstrated it on stage at Computex. It looks like they've re-named the low-power C-50 part they've already talked about, a variant of which I believe is already in the Acer Iconia W500 Tablet so don't get too excited as we're talking about a 5.9W TDP here, not an ARM-architecture competitor just yet. It lines up nicely besides Oaktrail as a platform that can enable a good Windows tablet experience.
Interestingly, AMD accepted that Windows tablets haven't had a huge amount of success recently and tipped a hat to Android by demonstrating a runtime version of Android which is provided by Bluestacks. We've already seen this briefly on the Viewpad 10 Pro.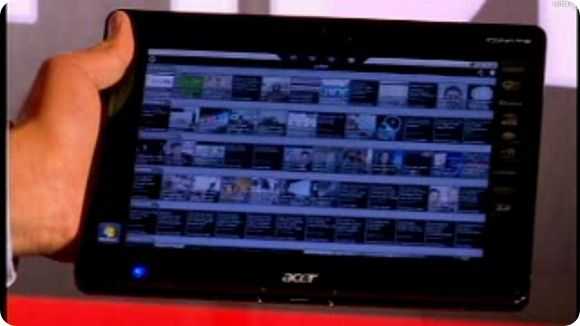 Bluestacks running on an Acer Iconia Tab W500 (Screen grab from live stream)
Announced features of the Z-01 are:
AMD Z-01 APU with AMD Radeonâ"¢ HD 6250 discrete-class graphics. This APU features two 1 GHz "Bobcat inch CPU cores and checks in at TDP of 5.9 watts.
Full intelligence and operability of the Windows® 7 OS
Consistency in user interface and applications from work to home
Full access to view and edit work and personal documents created in Microsoft Office and other leading applications
Free and automatic online Windows 7 OS updates to enable the most current features
Full compatibility with iPhone, Windows Phone, Blackberry and other leading mobile phones
Seamless connectivity with virtually any USB device
HDMI support to enable a full 1080p visual experience
Full compatibility with XBOX 360 Media Extender Functionality
The first product to officially use the Z-01 will be the MSI Windpad 110W which has previously been reported as having a C-50 APU. We're not sure if it's going to ship with the Bluestacks Android layer.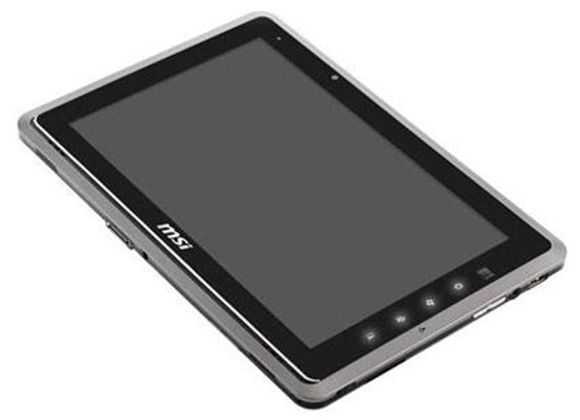 In a press release, MSI state that the Windpad 110W will have six-plus hours of battery time "the longest of any tablet with Windows architecture. inch which is actually BS because I've got two here in the studio that will beat that. They're based on last-gen Intel platforms too!
AMD do a great job with Fusion and the marketing is as smooth as silk so we're reserving judgment until we get that 110W in our hands. As for Bluestacks it looks like Myriad have a competitor which is great news for us consumers!