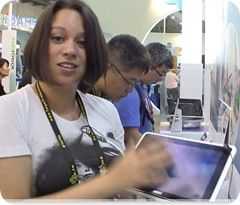 This is the way it's going. You've got a CPU and a GPU but it isn't enough to differentiate as power envelopes, battery life and processing power from all vendors converge. You've got to provide more than just a CPU and GPU and that's what Cedar Trail is all about. WiDi, wireless audio, Fast Flash Standby and integrated 3G.
The Windpad 120W could be one of the first to feature these USPs and although I'm sure they will come at a price premium, they will certainly set the 120W apart from the AMD based 110W and if executed well, provide some real value. What will also be interesting is to see how the dual-core, dual threading 1.86Ghz CPU performs. It should turn in scores 20-30% better than the Z-01 based Windpad 110W. Battery life will be a figure to compare too. I'd really like to get both of these under the cameras for a live session as soon as I can.
Netbooknews have again done a good job with the video and in the article here you'll find specs and a couple of pictures. The video is embedded below and we'll try and get the Windpad 120W in the database later today.