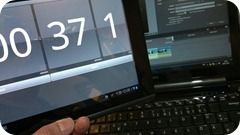 One of the key features of an Ultrabook is its ability to be able to handle video in a reliable, efficient way. 1080p playback in hardware is a given but what about video conversion and editing? Conversion, editing and rendering are CPU+GPU heavy tasks but it looks like the Core i5 at 1.4Ghz is going to enable pro-sumer level editing and, in many cases, lightning fast conversion rates.
Over at UMPCPortal I've just published part 5 of a series I've being doing on Ultra Mobile Video Editing where I try and put together lightweight and relatively low-cost video product equipment and video editing software for a 720p YouTube target. With the Ultrabooks 'Quick Sync' video (that's dedicated video decode and encode hardware) and CPU power that is 5x what you'll find on a netbook, 720p is no problem. The fast SSD on the Series 9 that was used for testing also helps along with 4GB of memory on a 64-bit windows system. USB3.0 is going to speed-up file transfer in the future too (when cameras support it and when memory cards get too fast for USB2.0.
The detailed article also looks at three video editing software packages too.
You can find the full article at UMPCPortal