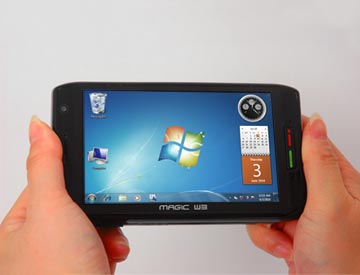 Excitement turned to disapointment yesterday when I took a closer look at this 4.8″ UMPC. The Magic W3.
No it wasn't the 800*480 screen that disapointed me the most although Windows 7 on that resolution is not recommended by Microsoft. It wasn't the small battery which would probably only return 2.5hrs in-use battery life and it wasn't the fact that it's aiming for a highly niche phone-pc market (read expensive.)
The most disappointing thing about the Magic W3 is that it uses the 'old' Menlow platform. Oaktrail technology (that's the Z6xx series of Atom CPUs) has been sampling for well over a year now and given the clear advantages of Oaktrail in a device like this it's hugely disappointing to see Menlow. Maybe the price was too high or, more likely, this has been developed over more than a year by a small firm that doesn't have access to the samples that the big guys do. Intels partner teams should be reaching out to manufacturers like this and helping get their best silicon inside.
Just think about what's being missed here.
Smaller form factor platform
Lower tdp
2x graphics speed
Hardware video encoder
Faster memory bus
Faster disk I/o
Vastly improved standby times
Longer in-use battery life
New power states
Windows 8 forward advantages
Intel Meego and Android builds which could bring even better battery life.
That's a list of advantages I would not ignore if I was developing a ultra mobile PC product today.
I'm trying to find out availability, price but at this stage, I'm not expecting this to be appearing in too many retailers books. Specialists only? What do you think? Will it even reach the market?
In the next article today I'll be looking at the Fujitsu F 07 C, a ultra mobile PC with a 4″ screen that is built on Oaktrail.
http://www.advancetc.com/index.htm
Posted, possibly while reclining, with the Galaxy Tab 7