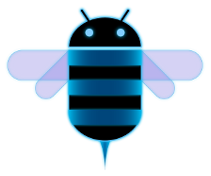 On the 15th of July, Google announced their most recent version of Android, version 3.2. This represents the continuing evolution of the Honeycomb branch of the OS. Chief amongst the improvements  were features that enhance the OS' scalability across different target hardware platforms. Concurrently, updated revisions of the associated SDKs were also released. Packages are available for Windows, Mac OS X, and LINUX. A nice touch, Google has implemented the SDK as a slipstream, so you do not need to download a new SDK starter package. Just download the individual elements to support the new version, and then continue developing away in your same development environment.
While I give kudos to Google for this approach, it is admittedly necessary due to the multiple variants of Android that are on the street. While 3.2 has been released, some developers will need to continue supporting and releasing apps for Android devices stuck at version 2.1. So keeping tools that stretch across Android branches is actually a necessity for Google to robustly support its army of Android developers.
In fact, Android 2.1 is the third most prevalent version of Android in use. Taken from the version tracking site, which aggregates data based on instances of the Android Market being accessed over a 14-day period, Android 2.1 ranks in at 17.5%. I call this group the left-behinds. They are the collection of devices, some of whose manufacturers promised updates for them that were never delivered; others were sold with 2.1 with no intention of being supported with later versions of Android. If only they had the update guarantee!
Android 2.2 and 2.3 are the first and second ranked versions, coming in at 59.4% and 17.6%, respectively. My own Dell Streak 7 is in the fat stratum, although I pray every day that Dell will reward the few of us who went with this uber-Streak with a 2.3 update. It would be even better if they grabbed 3.2 because it was specifically deployed to handle the variation in app appearance and behavior that has been occurring when apps are loaded onto a device with a display size that they were not originally designed for.
Android Honeycomb Market access has only combined for a total just shy of 1% in the last two weeks. The main takeaway here is that while Google continues to evolve the Android OS forward, and release the development tools that support it, user and developer adoption of the most advanced versions trails significantly far behind the releases. I think Google is on the right track moving to scalable OS', but it is likely that they will be investing in this development for quite some time before hardware deployments that support it catch up.
For those who consider this news meh because you are hanging on for the real leap forward that will be represented by the release of Ice Cream Sandwich (ICS), Google is maintaining the company line of a 4th quarter 2011 release. Readers would be well served moving their expectation window to the right into the 1st half of 2012. Either way, word on the street is that the first device to see ICS will be the Nexus 4G, currently available on Sprint. At last check, Sprint lagged behind Verizon in its deployment of Android updates. However, it has been getting them out faster than T-Mobile and AT&T, at least through the bottom half of last year.
My own Motorola Xoom (Verizon 3G version) has yet to receive the push of the update to 3.2. Has anyone else received the push? If so, please put some comments in and tell us about your experience so far. Key features included in the 3.2 update are listed here.
Source: Android Developers Blog