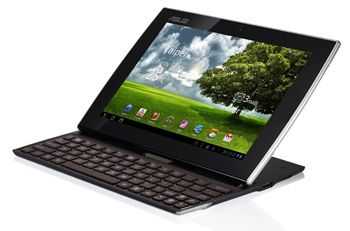 When we reported earlier in the week that the Asus Eee Pad Slider had passed through FCC approval, there was no official announcement from Asus. However, yesterday, the official press release announcing the device as part of the Asus product line went live on the Asus website. The official launch brings some additional tidbits that further pique our interest in this device.
One of the trends that is disturbing me in the Android infrastructure is the implementation of proprietary solutions to various use-case problems in new premier devices. Asus bundles Asus WebStorage with the Slider as a solution to cloud storage and populating an on-line archive with data you might need to access from multiple mobile devices. It is a nice touch (I guess), and I am sure one or two users will decide to use this solution instead of already existing cloud file services like Google Docs and DropBox, or cloud notebooks like Evernote or Springpad. My main issue is that every time a manufacturer deploys one of these in-house services on a tablet, the app is usually not uninstallable. The problem goes away if you wipe and root, but if you want to just run the device stock, these pre-loaded apps are annoying. It is very clear that the pre-loaded epidemic that plagued desktops and laptops for so long is creeping into the tablet market, as well.
Fortunately, that rant gets any negative take-aways I have from the press release out of the way. Most everything else is good news, or at least enticing news until we see some more definition from various allusions in the release. One of those items is in the area of the Slider's ports. We were aware of the microSD port, but the Slider's specs now also call out a 16/32GB Embedded Multi-Media Card (eMMC) port. This is called out as a discrete port in addition to the microSD port, so it makes me wonder if this will be a full-sized port like the Toshiba Thrive and Dell Streak 7 feature.
Also revealed is the fact that the device will be available in both pearl white and metallic brown color schemes. That designation appears to apply to the brushed layer applied to the slide-out keyboard, as can be seen in the pics attached. Android 3.1 will be pre-loaded and Asus indicates an upgrade to 3.2 as an OTA delivery, as we would expect. In case we were not certain before, the launch announcement confirms an IPS display (similar to the one used on the iPad) with a claimed 178 degree wide angle of view.
You can peep the specs in our product database here. A link to the press release is included in the source citations below. There is nothing in the press release on pricing or a release date.
So…is anyone holding off on that Asus Eee Pad Transformer purchase to snag a Slider instead?
Sources: