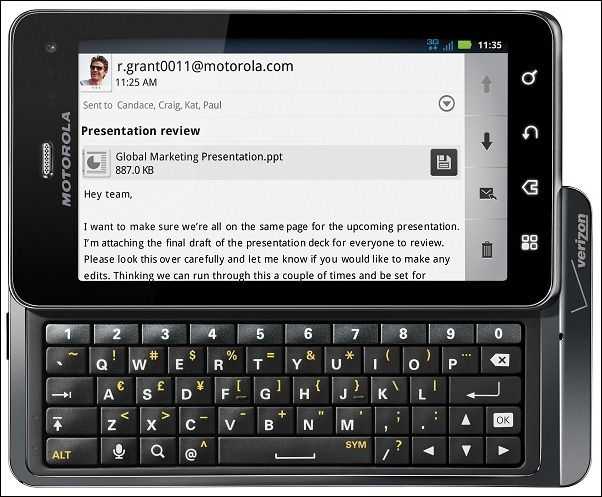 Though it showed up on the web back in March, the Droid 3 has finally received the official treatment. The phone will make it's debut on July 14th on Verizon for $199 w/ contract or with an upgrade.
Let's dig into the specs, shall we:
Android 2.3 (Gingerbread) OS
4-inch capacitive touchscreen (Gorilla Glass) 'qHD' display @ 960×540
Sliding 5-row QWERTY keyboard
Dual-core CPU @ 1GHz
8MP rear-camera capable of 1080p record and playback (through HDMI-out)
16GB built-in memory
MicroSD card slot supporting up to 32GB cards
World Phone – WCDMA 850/1900/2100, CDMA 800/1900, GSM 850/900/1800/1900, HSDPA 10.2 Mbps (Category 9/10), CDMA EV-DO Release A, EDGE Class 12, GPRS Class 12, HSUPA 5.76 Mbps
WiFi b/g/n & Bluetooth 2.1
GPS & Magnetometer (compass)
3G (HSDPA 10.2 Mbps (Category 9/10), CDMA EV-DO Release A, EDGE Class 12, GPRS Class 12, HSUPA 5.76 Mbps)
Micro HDMI-out
1540 MAh battery
184g
64.1 x 123.3 x 12.9 mm
The processor is unspecified, but considering the dual-core nature and 1080p capture/output support, I think it's safe to say that we're looking at Nvidia's Tegra 2 dual-core Cortex-A9 CPU.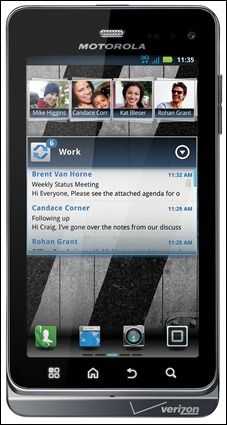 The obvious omission here is 4G LTE which is a bit of a shame, but if you're the internationally-traveled type, you'll appreciate the inclusion of global bands.
I'm most excited about the phone's 5-row QWERTY keyboard. While devices like the Nokia N900 had great keys, the keyboard had only 3 rows! With so few rows, using punctuation and symbols becomes incredibly hectic and really ruins (slows) the typing experience on what would otherwise be a great keyboard.
The Droid 3's keyboard, on the other hand, has a dedicated number-row which will definitely reduce the amount of modifier-key usage and this will serve to increase the typing speed. I haven't had a chance to use the keyboard just yet, but they keys are looking improved over the 4-row Motorola Droid 2 that came before it!