Archos has unveiled two "bang for bucks inch Android Honeycomb tablets: the 8-inch (1024×768, 4:3) '80 G9′ and the 10.1-inch (1280×800, 1.6:1) '101 G9'.
The 80 and the 101 both use a dual-core TI OMAP 4460 processor running at 1.5GHz. With more grunt under the hood than most Tegra 2-powered Android tablets in the market these days, the tablet looks promising to deliver a silky smooth multitasking experience as well as high resolution video playback. Archos claims that the OMAP 4460 CPU is up to 50% faster than Nvidia's Tegra 2 in certain situations.
As Archos is focused on creating multimedia devices for over a decade, it understands that full HD video content comes at a price and that's storage space. This is where the Apple iPad 1/2 and most other Android tablets currently on the market are lacking in — sufficient local storage to hold oodles of HD video content.
To address this limitation, Archos offers the G9 tablets with the conventional Flash storage format or a huge 250G hard drive, although the latter introduces a slightly thicker (around 3mm more) form factor than its flash counterpart. But then, a small price to pay for those requiring lots of storage.  I'll be mighty interested to see if the HDD version will consume more battery life than its Flash counterpart.
Both tablets will be able to hook directly to a host computer and accessed as an external HDD for easy transfer of multimedia content. You'll also be able to play back such content through the mini HDMI-out port that both tablets are equipped with.
Focused on multimeadia, Archos has historically included kickstands to make hands-free media viewing easy, and they aren't about to stop that trend. Both the 80 and the 101 come with built-in kickstands.
Both tablets will come with Android 3.1 Honeycomb as the operating system with Adobe Flash 10.3 support.  Archos also promises the G9 tablets will provide a great multimedia experience to its users by replacing the standard Android multimedia applications with their own Archos multimedia app suite. Full HD 1080p videos will play with no issues and there will be massive support for codec, format and subtitles.
Then there's the 3G module that no one else on the market is doing. For $49, you can buy a USB 3G stick that slips into a slot on the back of the 80 or 101 tablet and sits flush with the edge. If you want to use the USB stick with a laptop as well, go right ahead! This inexpensive 3G module adds flexibility for customers by allowing them to add 3G at a later time if they choose, and also not forcing them to choose to pay for a 3G connection that only works on one device!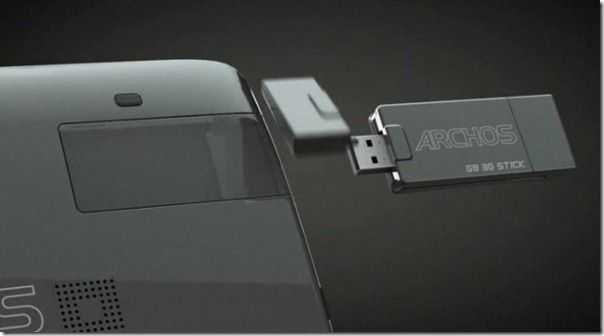 Charbax of ARMdevices.net has an early hands-on video of the G9 tablets:
Now for "bang for bucks inch bit: the 16GB 80 will start at $270 USD and the 16GB 101 will cost $349! The 250GB versions have not yet been priced, though Archos says 32GB flash costs nearly the same as 250GB HDD, so we'll likely see aprox. $350 for the 250GB 80 and $429 for the 250GB 101.
One thing which I wished Archos had done was to create a model that is pocketable. Rather than the G9 80, I would have liked to see a 5 inch (eg size of a Dell Streak 5) or a 7 inch (eg, size of a Samsung Galaxy Tab), that would have been great!
Both tablets will be available to us all end September of this year and will appeal to buyers looking for a cheap but powerful tablet with unique options and full Android market access!
Update: Archos now have 8GB variants of the 80 and 101 on offer with lower CPU speed.