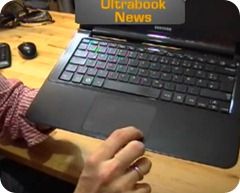 Thanks to everyone that turned up to watch me mess about with the Samsung 900X3A yesterday evening. We spent a good 2 hours going over almost everything except Bluetooth 3+HS and USB 3.0 which we couldn't test.
Were there any surprises? Not really. We had no issues and found no major showstoppers. The battery was hit hard during the tests though and it does highlight how easy it is to be focusing on working while forgetting that the battery might be suffering. In the 2 hours we tested, we saw 32% battery loss which is about 4hrs total battery time. Considering that we were testing gaming, 1080p YouTube videos and doing CPU and GPU tests, it's not surprising but it goes to show that there's quite a range of capabilities.
The other point I noted was that 1080p videos from YouTube played full-screen to a 1080p monitor worked smoothly along with 1080 samples (H.264) at 10 and 12mbps average. In fact, h.264 is handled perfectly by the hardware video decoder. The CPU barely moved!
I'm still writing up the full review of the 900X3A but while you're waiting, here are three recorded sessions (recorded from the live stream so not the best quality) from last night. The first impressions post (with higher-quality overview video) is here.