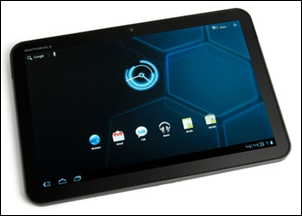 Thanks to the folks over at deal-a-day site, Woot.com, you have the option of picking up the first ever Honeycomb tablet, the Motorola Xoom, for $399. This is a refurbished 32GB WiFi-only unit. The 10.1 inch tablet is running Honeycomb 3.1 (the latest version).
If you don't mind picking up a refurbished unit, you'll be saving yourself a cool $200 off the asking price of $599 that you'll find for a new WiFi-only Xoom direct from Motorola. This deal even beats the device new from Amazon which would run you $499.
It is my personal opinion that Honeycomb is not yet good enough for the mainstream. If you want value in a tablet today, go buy an iPad 2. The Xoom itself is a decent bit of hardware, if a bit heavy, but the software still needs time to mature. The Android Marketplace is not yet loaded with enough Honeycomb apps to make the Xoom shine as a tablet, and the Honeycomb interface is not intuitive enough for your average user.
That said, you may not be a mainstreamer, and may be willing to put up with Honeycomb's rough edges for the sweet customizability that is Android's hallmark. If that's the case, we've had our hands all over the Xoom; if you need some questions answered, feel free to comment below. We've also got some Xoom related content that might aid in your potential purchase decision (also check below for specs):
Have a look at the specs:
Android Honeycomb 3.1
Dual-core Nvidia Tegra 2 CPU @ 1GHz
1GB of RAM
10.1 inch capacitive multitouch screen @ 1280×800
Micro HDMI-out
MicroUSB port
32GB of built-in memory
Rear-facing 5MP camera (capable of 720p recording)
Front-facing 2MP camera
WiFi a/b/g/n & Bluetooth 2.1
GPS, magnetometer, proximity sensor, accelerometer, and gyroscope
Android Marketplace access
3250 mAh battery
3.5mm headphone jack
Adobe Flash capable
249.1 x 167.8 x 12.9 mm / 9.8 x 6.6 x 0.5 inches
708 grams / 25 ounces
Don't forget that this deal be completely gone at 1AM EST, and may sell out (likely will!) before that time comes. Best of luck!