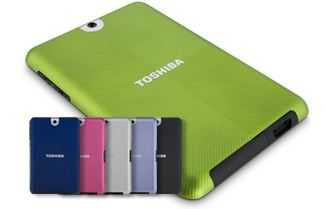 Remember that commentary we posted on Liliputing's initial hands-on impressions with the Toshiba Thrive? Well now the device reviews are starting to roll in and we though it was a good time to let you know what the world thinks about the device so far (or at least the part of the world that got their hands on the device early).
First off the bat, you have to keep in mind that Toshiba is a television company, and that culture, along with a few others, plays into the product positioning of the Thrive in its competitive market. With that culture comes the baggage of marketing words applied to product packaging and websites that do not necessarily translate to enhanced capabilities. I mention this because, while a lot of the media reviews are generally warm on the Thrive, I noted a recurring trend of enhancements that the Thrive claims to have, but do not really result in anything "better". Features like "Resolution+" do not appear to add much to the Thrive's value, for instance.
One feature that is advertised and does result in real world results is the full-size USB port combined with Toshiba's custom file-manager program. Laptop Magazine's Avram Piltch found that both the port and the app functioned as advertised with USB thumb drives and external USB hard drives. SD memory cards worked well with the file manager app when the cards were inserted. Remember that this is a full-sized SD card port. I can hear the sounds of photogs all over rejoicing at the concept of carrying the tablet around and immediately seeing their photos "developed" on a larger screen. I can not speak for all photo buffs, but I know that looking at my shots on my Sony Alpha a350's LCD does not tell me enough about how the shots look on a big screen. Toshiba's implementation and the decent reviews so far lead me to feel that the tablet is a shoe-in as a rambling shutterbug's companion.
Video performance-wise, the Thrive scored better than the category average in the An3Dbench. It also bested the Samsung Galaxy Tab 10.1, regarded by many as the genre-leader in Android Honeycomb Tablets. It is outpaced by the Asus Eee Pad Transformer however. Laptop Magazine's benchmarks can be seen here.
As I mentioned at the outset, Toshiba is a company driven by a few paramount sub-cultures, and their background as a consumer, and especially budget, PC company definitely influenced the Thrive's design as well as the TV culture I mentioned earlier. Therefore, the Thrive comes pre-loaded with a dozen or more apps of Toshi's choosing. User value with these will vary, as many are limited trial versions. Among the apps included are QuickOffice HD, LogMeIn Ignition, PrinterShare, and Kaspersky Tablet Security. I have personally found Documents-to-Go and Lookout security to be preferable alternatives to the former and latter apps mentioned, so definitely consider whether or not you want to jettison some of the Toshi apps when you are doing initial setup. Of course, I did not see mention in the reviews if some of these apps are locked and cannot be uninstalled. I have found this to be the case with several Android devices that I have owned.
Model pricing is $430 for 8GB, $480 for 16GB, and $580 for 32GB, which stacks up well against iPad 2 pricing. The full size ports offer multiple options for expanding that storage capacity. Not all files work well, however, especially HD video files, if users try to play or edit them from non-organic storage.
The downsides to the Thrive are primarily size and weight. Users will have to decide if the trade-off are worth it for all of the expansion and utility options the Thrive offers. Also keep in mind that with heft comes durability. I feel fairly comfortable with my Motorola Xoom's soft-touch, textured back, and durable feel, and while my iPad is lighter, its smooth back and light weight always make me nervous when I do not have it in a case. Similar thoughts should be considered by potential Thrive buyers if they are comparing that choice to other, lighter weight Android tablets.
There is a known issue where the Thrive will sometimes not wake from sleep. Because most buyer's typically fall in love or out of love with a device in the first 3 to 5 days of use, it might be worth giving it some time for Toshiba to roll out a firmware fix before consumer's get onboard the Thrive train. Toshiba indicates that they are aware of the problem, and a fix is being investigated. No word on when it will arrive.
Check out some of the reviews at the outlets below. These are just a few of the ones we checked out, and we are sure there are more out there. We had one commenter on the initial hands on report. How about now? Have the reviews brought any more readers into the potential buyer fold? Or do you feel that the word on the street encourages you to continue looking at other alternatives? Sound off in the comments below!
Sources:
Geek.com – Toshiba Thrive Review
Laptop Magazine – Toshiba Thrive Review