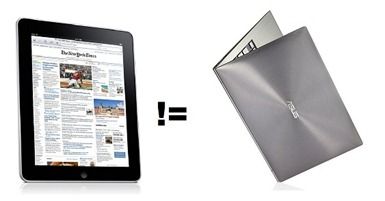 I keep reading articles that talk about Ultrabooks being an alternative to tablets and I think some misunderstanding has crept into common thought. Yes, there was a mention of 'tablets' when Intel talked about Ultrabooks but they weren't referring to the tablet marketplace, they were simply referring to features.
Consumer tablets offer some excellent advantages over the laptop. Not only in the mobile form factor but in the software. Features like always-on, touch user interfaces, long battery life, sensors and more. What Ultrabooks are aiming to do is to look at some of these features and implement them in the laptop form factor. A bit like a smartbook.
Mainly we're talking about always-on or 'always updated' as I think Intel call it. Quick-startup is a part of that and it aims to get you working as soon as you lift the lid. Ultrabooks are likely to take some design cues from tablets too. Thin, light and attractive.
Other 'features' will take a while to feed in too and they generally hinge on Windows 8.  Sensor support, 'apps' and user interface layers will help users fill in some of the other features that tablet users are getting used to.
So you see, the Ultrabook isn't going to target the same users as the iPad but it's going to learn some lessons from it. That's a whole different ball game.