It's clear that tablets are moving to the enterprise. The iPad has already infiltrated many markets (pilots are getting iPads to carry manuals for example) and you'll find them in many media companies. Android is moving that way too with Honeycomb leaning towards touch and mouse input methods. The operating systems are moving forward quickly (although there are still many limits) and the apps are following. What about the hardware though? Can you plug a keyboard and mouse into an Android tablet and get to work in a corporate fashion? Cisco seems to think so and on analyzing some more information and hands-on with the Cisco Cius, I'm liking what I see. This is a very flexible thin-client and mobile computing device that could show the way for true pro-mobile computing solutions of the future.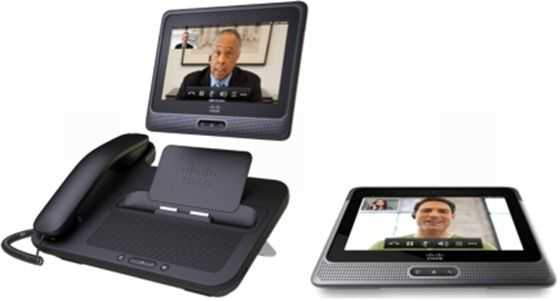 Android, Intel, Tablet are three words that many wouldn't really expect to go together but it's no secret that Intel have been working on Android for well over a year. They've been working on core items like power control and trying to dovetail the software with their new ultra-mobile platforms. The version of Atom inside the Cisco Cius is unique in that it can't run Windows – another surprise from Intel. I also note that we're seeing an non-Windows Intel tablet from a major brand here. Isn't that what Intel wanted to do with MeeGo and Nokia?
Cisco Cius specifications, links, gallery available through our Cisco Cius information page.
Moving on, the tablet is only half of the product because the media dock is the really interesting bit. Docks are worth their weight in gold, especially when it's one that's a feature-rich as this.
3 USB ports
3.5-mm headset jack
10/100/1000-Gbps switch ports for wired connections and Power over Ethernet (PoE)
Additional speaker for wideband hands-free communications
DisplayPortâ"¢ to connect to a larger display for an immersive video experience and for a virtualized desktop experience
Two handset options: standard and slimline
So lets summarise that as a quality docking station.
A bit more about the tablet software. It includes support for Cisco's secure remote applications architecture. It's thin-client for the big-boys basically and it integrates with cisco's security, VPN and prioritisation support on their routers. A 'VXI Endpoint' is the Cisco term for this.
You've also got a Cisco marketplace with approved apps and a separate API and developer community. One assumes the IT people can remove access to the Google Market because that's there too highlighting the fact that this is a fully approved X86 build of Android. Intel have done well to get past this point because it means a lot of value-add for their customers. One wonders if it could affect the value of Intels AppUp solution. The Cisco store includes apps from Citrix, VMWare and Wyse for remote access solutions although these are available in the market. [I'm using Wyse Pocket Cloud Pro to test Android to Vista server remote desktop right now. It's nice to see Chrome on the Android screen.]
The Android build is only 2.2 unfortunately. Intel are working on Honeycomb but it's not clear if Cisco will roll-out that upgrade for the Cius. I assume it would be a big software job.
Cisco Cius specifications, links, gallery available through our Cisco Cius information page.
Don't forget that you've also got:
HD video encoder hardware on the front facing cam. 720p 30fps should make for some great conferencing sessions. (Cisco WebEx is built-in)
SIP support
Removable battery
I've been looking around for reviews of the Cius and there isn't much out there at the moment but the video below is worth a watch. It's an honest overview from an owner who seems happy with the device overall but has a problem with battery life. Yes, you were wondering about that weren't you. Intel, Tablets and battery life often don't go together.
Take a look at the video below and you'll hear a comment about the battery "draining like crazy." It's difficult to get a perspective on this comment so I asked the author. This is what he said:
I have the most current firmware and I would say the standby time is around 5 hours. It would around 3 hours if I used it regularly.
If we were talking about a small battery here I'd say 'OK' but we're not. The Cius packs a 19Wh battery in 520gm. Here's what Cisco say about battery life.
• Removable 5200 mAh battery

• Battery estimated use times will be provided at a later date (battery is expected to last up to 8 hours for typical business use)
There's quite a difference between 3hrs and 8hrs there. Given that this is a 2.2W TDP Morestown platform that should idle way down to sub 1w territory with Android, a screen-off, Wifi-on scenario should be returning at least 15 hours. With the screen on, add 1W. In-use, add another Watt and you should be at a minimum of 4hrs usage. I don't understand what's going wrong here. Maybe Intel have some work to do on the Android build still?
The video is worth watching because you'll see smooth transitions across the board and you'll see some apps demonstrated. I only wish we could have seen some benchmarks. Sunspider would be important as would Quadrant and a simple Benchmark Pi test. Is the browser based on Chrome rather than the Android browser? [Update: It uses the standard Android browser.] Are there any other special features hidden in the system settings too?
Apart from the battery life issue which needs to be confirmed, there are two other issues. This is a Wifi-only device right now which is not good for mobility. 3G is expected later this year via Verizon in the U.S.A. Secondly, you're looking at $750 for the tablet and (my) estimated street price of $400 for the dock. It sounds a bit heavy for a thin client based on Android (considering I can do the same on my Iconia Tab wifi for about $500) but don't underestimate the value of a rich dock. Charging, USB, headset, display port, gigabit Ethernet and handset is a lot of flexibility there. As for the tablet itself, yes, $750 is a lot for the hardware but this isn't just any old Android hardware, it's a software bundle too. The price is right in my opinion. This is a corporate solution so don't forget, if you're looking at 200 of these units, you'll be getting a huge reduction on those prices. 30% at least.
What we need now is for someone to make a consumer version of the Cisco Cius. Drop the handset and the Cisco-specific software, fix that battery life issue, style it up a little and you could be looking at an interesting crossover Android device. Fingers crossed for a real browser on the Intel Honeycomb build. It's on the Google TV build so why not on a tablet build?
Cisco Cius specifications, links, gallery available through our Cisco Cius information page.