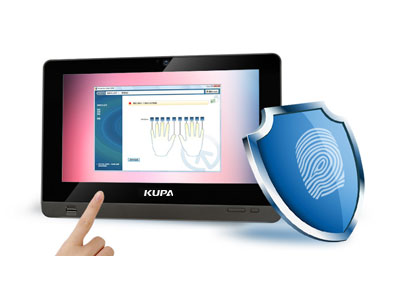 At IFA next week. Kupa will be showing the Kupa X11, a 10″ Oaktrail (1.5Ghz Atom) based tablet that is said to offer 10 hours of battery life.
Always suspicious of battery life claims, I checked out the specs and after seeing the huge 54Wh battery am fairly confident that it could indeed reach 10 hours of light usage. The battery doesn't bring major weight issues either as the product is coming in under 1kg.
Pressure sensitive digitized and 10-point capacitive multi-touch brings the best of pen and touch input options. There's a hi-res 1366×768 screen and 2GB Ram driven by Windows 7 Pro.
The basic model with 64GB SSD is going to retail for $699 which isn't bad given the hi-end screen and battery. Adding 3G, GMS and storage up to 128GB takes the price to $999
We'll keep an eye out for the Kupa X11 at IFA.
http://www.kupaworld.com/en/product/kupaX11
[ Posted via the Galaxy Tab. Ultra-Mobile at IFA 2011. For more IFA coverage, follow me on Twitter. @Chippy ]