Update: I've refined the kit down to 700gm (1.5lb) but I'm struggling to find a no-bag carrying solution. Cargo pants are out for me (not my style) and it's going to be too warm for a jacket. I may go with a 200gm Jack Wolfskin Body Bag.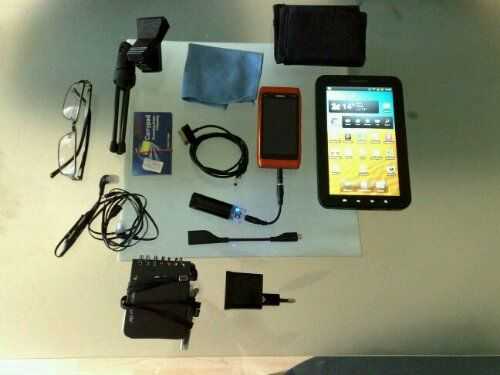 At 1040gms including wallet and glasses, not a single X86 processor in sight and a cost of around €750 this is one of the most radical, lightweight and low-cost set-ups I've ever had to rely on for reporting. There isn't even a hardware keyboard in there.
I'm using the Nokia N8 for photography, video, audio podcasting (via Audioboo – exclusive to my twitter channel) and phone. It might serve some twitter duties too.
The Samsung Galaxy Tab is the main blogging and sharing tool, chat and photo editing tool.
There's an emergency AA battery adaptor that will top-up the N8, a mic clamp and tripod that also works as a 'steadycam' for the N8 and a headset that works well to improve the clarity of audio in noisy situations.
Total storage is 48GB, both devices have HSPA (operating on two different networks) and there's enough battery life for about 7 hours solid working. That should be enough for a 12 hour time-span but if not, I've got the high-power mains adaptor for the Galaxy Tab which will give me a good 30% charge in 60 minutes.
Business cards, my wallet, glasses and the essential screen wipe are also included. Total weight of what you see there is 1040gm
More background on the kit can be found here.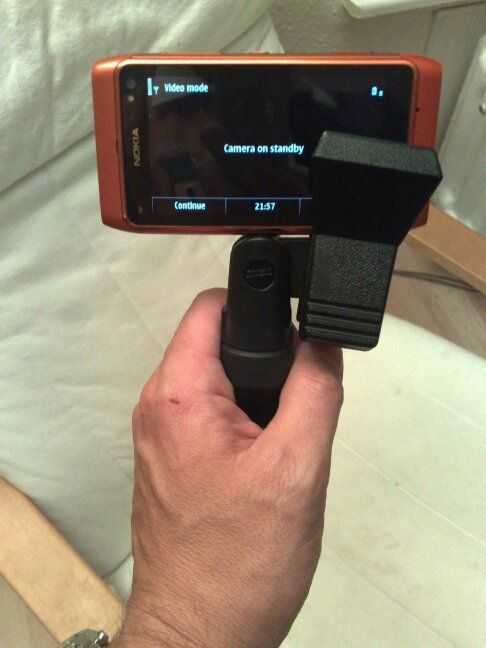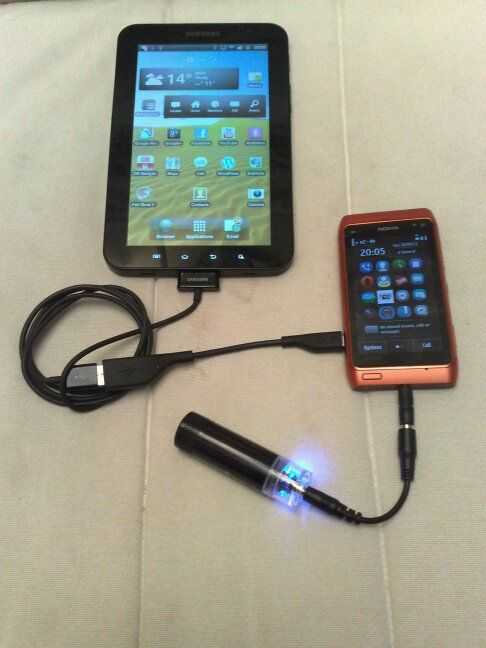 I want to take the chance to pre-empt a few questions.
How will you edit videos?
I will be using the video editor on the N8. Its allows edits to be top and tailed and to be sequence. Cross-fades are terrible so title will be basic. Ill try and make up short intro and outro clips too.
Why don't you take a Bluetooth keyboard?
I'm not a fan of BT keyboards. I've experienced batteries running out! A USB keyboard could work for bum-on-seat work with the Galaxy Tab but I don't feel it will bring me much. I'm happy thumb typing on the Galaxy Tab.
Surely you're just showing off?
I won't deny that I'm enjoying this but my job is not just to bring you news about mobile equipment, I need to be authoritative too. How can you be authoritative on ultra mobile computing subject if you don't test and experience the limits?
Can you do live video broadcasts?
Yes although my tool of choice, doesn't work on the Samsung Galaxy Tab 7. Having said that, I'm unlikely to do any ad-hoc live broadcasts unless something huge happens in one of the press events. I will be using Audioboo for ad-hoc podcasts and you'll find them on my personal twitter account.
How would you improve the equipment?
The N8 doesn't have any hardware stabilization so videos are a little shaky. There's a lag and slight uncertainty with the auto-focus on close-ups too. Because of upload restrictions (3G only) I will only be recording in 480p but that's a networking restriction that can't be easily solved yet.
More battery life, more CPU power is a no-brainer.
How will you carry everything?
I'm off to the shops tomorrow to buy a suitable pair of pants/trousers!
I'm traveling up to Berlin for IFA on Wednesday this week. Reporting will be done on Carrypad, UMPCportal, Meegonews and Ultrabooknews. Press events start on Thursday. The aim is to bring you some quality content and, if possible, a scoop or two. Not only Is this kit light, it's fast too!
[ Posted via the Galaxy Tab. Ultra-Mobile at IFA 2011. For more IFA coverage, follow me on Twitter. @Chippy ]