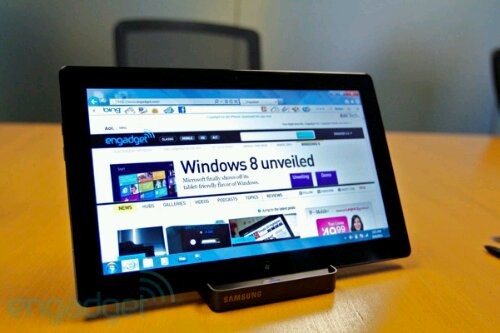 I'm not just playing with words when I say that the newly announced Samsung Series 7 Slate is 'ultra' because if you look at the platform, the weight and the price you'll see that it's effectively an Ultrabook without the keyboard.
Engineering something like this takes even more skill than designing am Ultrabook because you're laying the screen directly over the motherboard. That introduces some nasty thermal challenges.
For those that need the keyboard, you can leave now. For those that may not need the keyboard all the time (video editing, photo reviewing, those thinking about Windows 8 touch features, hot-deskers) this is an interesting product.
The specs include SSD, 4GB RAM, capacitive and digitiser layer, a high-brightness 1366×768 screen, quick-start, a 2lb weight and an optional dock. Starting price is $1099.
This Is My Next have some hands-on here.
[ Posted via the Galaxy Tab. Ultra-Mobile at IFA 2011. For more IFA coverage, follow me on Twitter. @Chippy ]