Ramfrancisuk called it The Holy Grail of mobile computing – doing your job with pocketable devices – the No-Bag challenge.
I know many of you have achieved this in the past so I won't embarrass myself by claiming this is any sort of breakthrough but I will say that after 5 years of testing mobile computing equipment, this is the most confident I've ever felt about a set of pocketable equipment that allows me to do my job a pro-blogger, videographer, podcaster and system administrator.
You won't be surprised that it consists of the Nokia N8 and the Samsung Galaxy Tab, a few cables and a headset.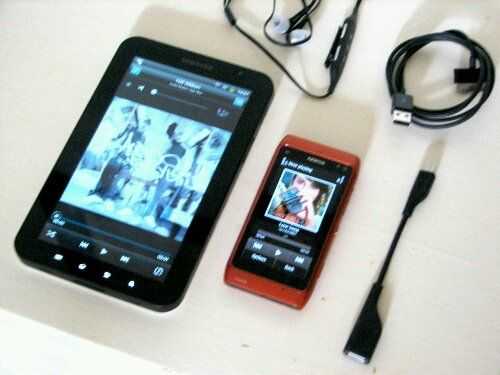 You might, however, claim that everything can be done on a superphone. You're right of course. The Samsung Galaxy S2 and the iPhone 4 make it possible but there are good reasons to split the equipment into two parts.
Redundancy, parallel working, battery life and text input.
You should never have a single point of failure in your business process. We all know that, but what about parallel working? I love this part.
The N8 produces superb photos and videos and as of last week, the 720p videos are done with continuous auto focus. It's possible to sequence a few clips, add a title and push the video to YouTube without leaving the device. What do you do while the video upload though? You get right on to the Galaxy Tab and start typing the text. In portrait mode with the text correction and prediction features turned on along with a small amount of haptic feedback I can fly through paragraphs of text input with ease. It's better than any hardware keyboard I've tried. The size and software fit together perfectly.
Once that video is uploaded I use the Galaxy Tab 7 to go to the YouTube app, share the uploaded video via the WordPress app and save the draft. I then grab the pre-written text and copy it into the WordPress article above the video embed code. If I need to, I transfer an image over from the N8 via Bluetooth and pull it into the post. If I'm feeling brave at this point I'm firing up Audioboo on the N8 and get ready to record something for twitter as a tease before the article goes up.
One last check on the text is required before the article is sent and boom! Podcast, video and blog post complete.
It's not perfect though. If i need to record something in 720p, I'm left with a huge file that could take 30-60 minutes to upload over 3g. It means I have to stick to 3mbps 480p which is enough to trigger the HQ quality in YouTube.
I also want to touch on battery life. No smartphone in the world would last more than 4-6hrs when put under the strain of video blogging. The last thing you want to happen is that you're out of battery when someone sends you an SMS about a potential scoop. Splitting the jobs across two device gives you plenty of battery life for the day. If my N8 dies, the Galaxy Tab 7 takes over automatically. (A Multi SIM contract is a must-have if it's available in your country.)
Finally,  there's the issue of system management. I have to put my hands up and say that this bit isn't easy at all. Command-line work on a tablet is a frustrating experience but it's possible. I'll be taking a risk but it's worth the risk. If everything goes pear-shaped, ill have to borrow a laptop or run the the press office.
So that's the plan for IFA next week. One Nokia N8, one Galaxy Tab 7, a couple of cables and a few large pockets. Funny enough, that's something I'm going to have to look at over the weekend. I might have to buy a classic photo-journalists jacket!
This article was written without a problem on the Galaxy Tab, I've done multiple tests with the N8, my apps seems stable (enough) and I'm happy with the quality. Stay tuned to see what happens at IFA next week.
Oh, and just to prove I can throw a video into the mix, here's a 720p video taken, edited and uploaded via the Nokia N8.