Not only is the Viewpad 10pro one of the first Oaktrail-based (Intel Atom Z670) tablets to ship, it's also the first with Bluestacks on it. Bluestacks is an 'Android player' that simulates an Android environment in order to run Android programs. Like Myriad Dalvic Turbo, it's a system with a lot of unanswered questions. Sideloading, GPS, network usage, power, speed.
But first, let's talk about the Viewpad 10pro. It was spotted as available in the USA by Liliputing yesterday and checks on the European side of the pond indicate that it's already shipping in a few countries. 560 Euro gets you a 32GB, Win 7 HP version with 2GB of RAM and the aforementioned Bluestacks Android player in Germany. I'm also seeing it in the UK.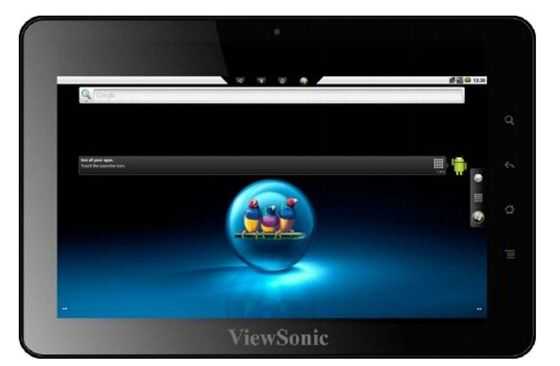 Viewsonic Viewpad 10 Pro in the product database.
With a weight of 800gm we're getting into some interesting territory and if the battery is 36Wh as I've calculated, we should be looking at 5hrs life on this platform. Viewsonic claim 'up to 8hrs' which is possible I guess, in idle situations. The downside to the Oaktrail platform is performance. You're looking at a 1.5Ghz CPU which is slower than the first-generation Atom netbooks. Graphics won't be up to much either with a netbook-level performance again. If fast SSD and memory has been implemented then there's some hope for a smooth Windows 7 experience but don't expect too much. Browsing should be fairly quick compared to consumer tablets but don't expect to do a/v editing work on this.
As for Android, it's an interesting addition to the platform. The core system is known at hyperDroid, technically a hosted hypervisor which emulates the Android hardware environment and runs within Windows. As you can probably guess, there's no way to shutdown or idle Windows while the hosted Android system is running so you won't get any battery life advantages but with switching times in the 1-second range, you at least get the ability to run Android apps when you wish without having to go through a multi-boot process.
According to Bluestacks documentation (Bluestacks hyperDroid PDF, More here.), the file system is shared, networking is shared and simultaneous use also possible. As for emulating hardware like GPS, accelerometer and other hardware, that would be implementation independent and it's the bit we're going to have to wait for reviews on.
Performance in Bluestacks should be quite good so there's some potential for gaming but do note that this is Android Open Source and not a Google Android build. That means you won't be getting Gmail, Maps and all the other interesting Google apps. Having been through that before on a number of devices and had to deal with sideloading of apps, I wonder just how much use it will get over time.
We're in touch with Viewsonic and are trying to arrange a review sample for an interesting live session. Stay tuned.
Update: In Europe there is going to be a follow-up model which will be better optimized for Bluestacks and a 2.3 build of Android. Please note that the current batch of Viewpad 10pro devices are optimised for Windows although they do include a Bluestacks build. The new model will start shipping in 2-4 weeks. We will be getting an early model early next week for testing.
Viewsonic Viewpad 10 Pro in the product database along with a list of comparable devices.