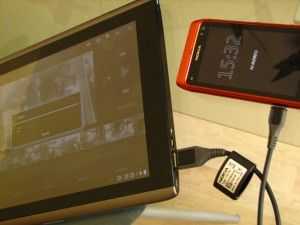 I've been trying to use mobile operating systems for productive and full-computing scenarios for years and although things are getting better by the day, there are still major issues to be solved. Even the latest tailored hardware and software solutions are littered with unexpected restrictions, bugs, showstoppers and even costs. As I continue to test devices like the Acer Iconia Tab A500 and iPad I am making a list of functions that I can perform on a desktop operating system but not on a consumer or mobile operating system that you might find in a tablet. You'll find an early 'issues' list here.  I'm largely talking about Android or IOS here.
The issues fall into 3 categories.
Issues that are a result of hardware. This varies between platforms and is also sometimes dependant on drivers and software. E.g. Bluetooth support. Many of these issues are dropping away as ARM platforms evolve, some of these issues are because of the design requirements (battery, size, heat)
Issues that are a result of operating restrictions. Operating systems will evolve but each evolution is taking 6 months to 1 year.
Issues that are there simply because the third party software may not have been written yet.
The latter category is one we can ignore. If tablets or other devices based on mobile operating systems are successful, the software will come. Lets look at the other two categories though.
Hardware Issues
Video editing software and hardware. While software may exist, the CPU, hardware encoders and possible GPU acceleration may not be in place. The only exception is the ipad2, iphone4 and Ios which use the capabilities of the A4 chip very well. It may be quite a while before generic cross-platform solutions appear.
USB host support. In some cases the platform only supports USB client. This affect many devices people commonly use like webcams, printers, video capture cards and many other device you'll find in the high-street PC store.
Keyboards on tablets. Arguable that this isn't neccesary if you've already chosen a tablet but we'll leave it in the list for discussions sake.
High-capacity storage. 100+GB support is often required by those dealing with media.
Other interfaces such as serial (often used for control and data collection) pci-express. USB based solutions can solve this if the drivers are built into the operating system.
Extendable GPUs through docking stations or modules
General processing power (CPU)
Operating system issues
Extended languages and keyboard support
External screen capability. This includes extended desktop and multiple interface support. Also needed in the OS
Drag and drop (of selected text, audio, image, file, video.)
Bluetooth stack. Software is generally the issue here and it's usually an operating system issue.
Full web experience including mouse-over support. Some third party software may fix this is mouse or other pointer support is provided by the OS.
Multi-user support with associated security mechanisms. Generally a core operating system issue.
Extending device support through installable, pluggable drivers.
Extended IP stack to support routing, multiple.interfaces and other IP features like file sharing protocols. This can be implemented in third party software.
Multiple sound module support for live audio performances with pre-fade. This is also a hardware issue.
3rd party software
For discussions sake, i've included a few software issues here.
Offline blogging tools. A third party software issue that will get solved in time. (I'm impressed with the progress of Blogsy on the iPad)
Office suites. Third party issue although core format support, encryption, media handling, drag and drop / copy paste, synchronization support can be due to operating system. Again, IOS is probably leading the way here.
Full feature browsers. (Mouse-over support in the OS could be needed here too)
Software development tools. 3rd party issue that also requires keyboard, mouse and often, external / extended screen support too.
Having listed a bunch of items above, we have to now ask ourselves whether they are important and if they are, are they likely to be fixed. Certainly the web browser issues are serious, the CPU power issues are too where the operating system runs on an ARM design and you have to think carefully about multi-user and expansion through third party devices on USB. That's a big market! Issues like IP stack, multiple audio modules and extended screen are less important. Third party software issues will solve themselves as devices move into different markets and the customer-based there becomes big enough to support the creation and support of the software. As for the hardware issues, don't expect 500GB storage soon but do look for alternative storage solutions via local or remote wireless connections.
What about that keyboard though? Is it still an issue? For many operations, it's a barrier. Tablets are popular now but is there still a desire for a keyboard. I'm sitting in front of a tablet writing this post now only because it's got a full keyboard attached.
My gaps
I want a mobile video editing system with blogging client and full browser capabilities. The video encoding hardware on the iPad has shown breakthrough capabilities in iMovie for the price and size . Keyboard input is important though so I would want a robust keyboard solution. Offline blogging tools are required. Full browser too. The ipad2 + keyboard is getting very close to a usable solution for me but it still has showstoppers. Cabled internet for high-speed video upload, full browser with flash, mouse-over, side-by-side windows for drag and drop, external screen, ability to edit non-iphone videos in iMovie. I'm still a huge proponent of the smartbook and hope that we see more work going into these because that's where I see most of the gaps being filled for me. Windows 8 could be the stepping stone to an interesting smartbook / convertible / slider design. Like the TX100 perhaps!
Your Gaps
What are the 'gaps' that you see between a full computing solution and a consumer mobile OS solution.