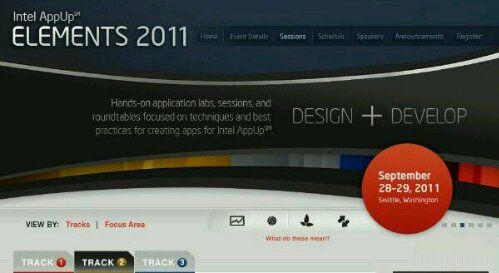 From the moment I saw the Samsung Series 7 slate.with the Appup logo on it at IFA I knew there was something going on. It makes complete sense to use the Ultrabook category as a way to expand and springboard the Appup app store and to add extra value to Ultrabooks. I reported on the value of it here.
When I saw a Samsung Series 9 on the Appup booth at IDF last week I began to ask questions. Everyone kept their mouths shut. Now I know why.
In a list of sessions published on the Appup Elements event site today my suspicions are confirmed.
"The transformation of the PC has begun. End-user expectations of the PC are rising and their requirements are diverging as the market grows.Attend this session to hear about how you can benefit from the software ecosystem shift through the rise of the Ultrabook™. "
And then, in a practical session:
"Come learn about the amazing suite of technologies included on Sandy Bridge processors. Learn how you can take advantage of Sandy Bridge technologies to maximize performance of your applications."
I'm sure there are more hints in the Appup Elements website but that's all I need as confirmation the Intel will be trying to lever Appup into the Ultrabook. I hope they succeed.
More on Appup Elements here. Unfortunately I can't attend but you can be sure I'll be reporting here when I learn more.
P.S I saw Ivy Bridge doing a rather good job of accelerating HTML5 at IDF. Appup Elements also has an HTML5 focus which fits well with next years Ultrabooks