We keep an updated list of Ultrabook alternatives here.
Apart from the Apple MacBook Air which is built like an Ultrabook but sold like an Apple product, there are other interesting options that hover just outside the weight and features list of a true Ultrabook. You've got options with Core i3 or AMD E450 at way below the Ultrabook price level, options without SSD and even high-end options. If you can handle just 500 gm / 1lb more weight and are flexible on specs you can save hundreds. In this report I list your options for Sept-Oct 2011.

Before you take a look at the Ultrabook alternatives, have a look at these two reference articles to find out exactly what an Ultrabook is.
Backgrounder: What's an Ultrabook?
Backgrounder: Ultrabook features Guide.
Low-End 'Almost' Ultrabooks
These value notebooks offer Ultrabook performance in their high-end variants but come with other considerations.
HP Pavillion DM1 in 2nd-gen Core-i3 specification reaches low-end Ultrabook processing power in a low-cost chassis. This is the second generation of the highly respected DM1. No Core i5 variants. SSD options raises price significantly. If you are prepared to take an AMD Fusion version (expect about 1/3 to 1/5th of the CPU performance) the price goes down significantly. Fusion versions are not for video editing.
The Lenovo X121e Quality laptop in the high-end-netbook range is available with a Core i3 option. Sits in the same category as the HP Pavillion DM1 and comes with similar AMD Fusion options. Again, don't choose the Fusion option if you want to do any video editing.
Samsung Series 3 11.6″ – Budget Sandy Bridge (up to Core i7) devices without SSD options but with good specs and good prices.  Available in 11.6″ version. No USB3.0 but fast-start technology is included on the hard drive units. Weight is a competitive 3lbs. Could be good for an SSD upgrade project. Could be one of the leading Ultrabook competitors for the budget-minded. Samsung are almost squeezing themselves out of the Ultrabook market with this! CNet quick-look video here. Model number NP300U1A if you want to do more research.
Aspire TimelineX 3830 with a 13.9" screen and Nvidia GT520M graphics, the 3830 offers good value but the weight is high at 1.85KG / 3.9lbs
Asus U36SD Similar specs to the TimelineX 3830 but available with SSD. Ultrabook prices with a 1.7KG weight.
MSI's X460 and X460DX look good on paper until you get to the weight.  4.3lb is significantly heavier than Ultrabooks
High-End 'Uber' Ultrabooks
There are others that come a little closer to the Ultrabook standard but all these ultra-portable laptops come in at higher price points than Ultrabooks highlighting how much value will be in the Ultrabook solutions. Here's a quick rundown of some of the options you have. They are all 2nd-gen Core devices and come with the important SSD option for fast boot/startup. Weight is under 1.5KG / 3.3lbs
Lenovo X220 – Versions of the 12.5" X220 (with the LG IPS display seen in the LG Xnote P220) start with the Core i3 processor although you won't find hybrid or SSD options at the entry level prices. The 120GB SSD / Core i5 version comes in at around Ultrabook prices. $1200 or less is possible. The weight: 2.9lbs for the 12.5" model
Vaio Z21 – A Core i5 Z21 with 128GB SSD starts at around 1500 UK pounds / €1680 in Europe. A 'Special Edition' includes Fingerprint reader and note that it uses the Core i5-2410M at 2.3Ghz.
The Weight: 1.1KG for the 13.1" 1600×900 model
Fujitsu Lifebook P701 – A thicker, heavier option is the Fujitsu Lifebook P701. Available with 128GB SSD and Core i5 (2520M at 2.5Ghz) with Fingerprint readers and HSDPA included for €1260 ($1715) in Europe.
The Weight: 1.5KG / 3.3lbs
Toshiba R830 – Obviously the larger brother to the Toshiba Z830 ultrabook, the R830 offers the higher-clocked Core i5 (2.3Ghz) along with 128GB SSD, a DVD+/-RW, USB 3.0, GB LAN, BT 3.0. 13.3" non-glare screen for a surprisingly cheap €1000 representing one of the best value thin and light non-ultrabooks around. You're going to pay a small weight premium. The Core i7, 2.7Ghz version of this is available for $1500 in the USA.
The Weight: 1.5KG / 3.3lbs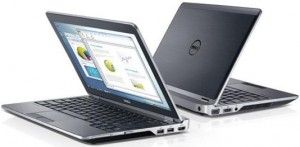 Dell Latitude E6220 Core i5, 128GB SSD, UMTS and a 12″ screen in 1.5KG. The price is high and it's noticably thicker than Ultrabooks. No USB3.0 could be a deal-breaker for some too.
There's a theme running through all these 'uber' ultrabooks while the weight is a little higher in most cases, you're always getting the fully clocked mobile processor. Battery life will suffer of course but you won't have to rely on Turbo Boost to pick up the speed. Watch for price drops as true Ultrabooks feed into the market.
The First Ultrabook. Look for price drops.
The Samsung Series 9 – Isn't quite an Ultrabook because it was launched before Ultrabooks existed and doesn't quite have the boot speed or security specification to get the Ultrabook stamp of approval. Prices are highler than Ultrabooks but like other Ultrabooks it's available in 11 and 13″ formats. Use ultra-low-voltage versions of the Core CPUs which have lower clock speeds. This is, to nearly all intents and purposes, an Ultrabook and prices will have to come down after the first wave of Ultrabooks launch.
Other Ultrabook Alternatives
Looking a bit wider you reach 'Ultraslates' and bigger screen options.
The Samsung Series 7 Slate which, er, is a slate…with an Ultrabook heart. It is delivered with Bluetooth keyboard and docking station for true hot-desking. The slate weighs under 900gm making it the lightest Sand-Bridge processing unit there is. An interesting choice if you're thinking about Windows 7/8 touch features.
Lenovo x1. The 13.3" SSD version comes in at $1500 and 3.7lb
Samsung Series 7 Chronos – Larger screens (15") and much heavier at 2KG / 5lb
Dell have the Vostro V131, it's heavy at 1.8KG. A Core i5 version with SSD and UMTS does come in at a competitive price though. The 'old' Dell Adamo XPS is still available but expensive for a Core 2 Duo device.
A list of Ultrabooks
We keep an updated list of Ultrabook alternatives here.
If you need the features of an Ultrabook, you need an ultrabook. There aren't any shortcuts. SSD, light, small, powerful only exists in the Ultrabook category.
Summary
There's no shortcut to an Ultrabook but there are good options out there. You need to asses your processing requirements (AMD Fusion or Core), weight requirements and the need for SSD. The Samsung Series 3 NP300U1A looks like the best value Ultrabook alternative and could be retro-fitted with an SSD to make an entry-level Ultrabook at a few hundred dollars less than an Ultrabook. With removable battery packs it's arguable that this is a better solution for on-the-road mobile computing. Another choice, also a Samsung product, is the Series 7 Slate. Ultrabook processing power (Core i5) in 900gm is amazing and worth considering for road-warriors.
If you can wait for just a month it might be worth it.  In a few weeks we'll see the first Acer and Asus Ultrabooks models hit the shelves. The entry-level pricing is aggressive and will have a knock-on effect for all these Ultrabook alternatives. November could be the best time to buy if you can wait.
Your Feedback.
Do you have any tips for the Ultrabook Alternatives list? If so, drop me a comment below and i'll add any significant options to this post.