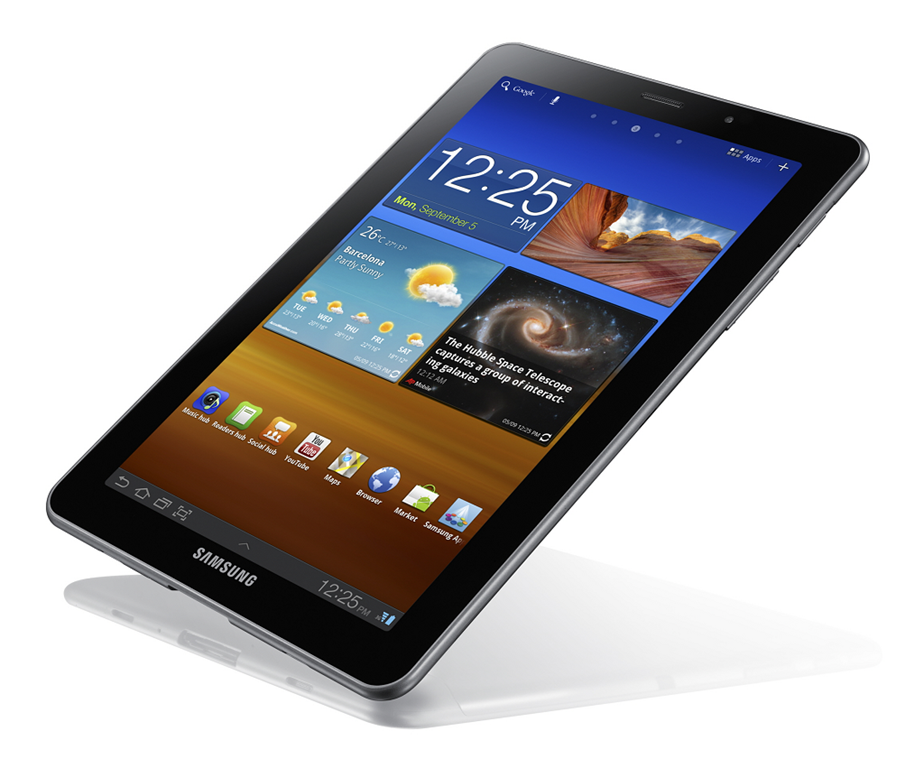 Samsung's upcoming Galaxy Tab 7.7 was announced at IFA 2011 at the very beginning of this month. Many were excited to hear about the high density Super AMOLED Plus display and the 1.4GHz dual-core CPU. Given the excitement, and the popularity of the original Galaxy Tab 7 in the US, it's surprising that we saw reports that the Galaxy Tab 7.7 might not become available in the US. Fortunately, we can now say with confidence that the Galaxy Tab 7.7 will be reaching US shores, thanks to the FCC.
Engadget dug up the FCC filing, and while not much detail is revealed, we can see some simple diagrams (click through to Engadget to see), along with the the logo that will be printed on the back of the device, which indicates that the particular model going through the FCC is WiFi-only. Separate testing will need to be done on a model that features WLAN connectivity.
The original report of the Samsung Galaxy Tab 7.7 (and the Galaxy Note) not coming to the US came from GottaBeMobile. The information came from a Samsung representative who said that there were "no plans" for launching the Tab 7.7 (and the Galaxy Note) in the US. It's understandable how this could have been interpreted as Samsung effectively saying that these devices wouldn't be coming to the US, but it seems clear in hindsight that the rep was referring to the fact that US plans were not yet made, finalized, or otherwise ready to be commented on. Saying that there a "no plans" is a pretty silly way to say that if you ask me!
Miscommunication is never fun, but I'm happy that it was merely that, rather than Samsung actually deciding not to launch both the Galaxy Tab 7.7 and the Galaxy Note in the states.
Though the Galaxy Note hasn't yet cropped up in the FCC, we've been expecting to see it in the US at some point, and the Galaxy Tab 7.7 filing gives us confidence that it will eventually become available in the region..