As you probably know, Chippy is in the trenches at IDF as we speak type. In addition to a solid hands-on with the devices, he's also doing testing and keeping us up to date with some audio logs. Let's first have a look at the blazing speed of the Galaxy Tab 7.7 as indicated by the Sunspider benchmark:
As you can see, the Tab 7.7 scores a ridiculously fast 1440.4ms on Sunspider which actually beats out the Onkyo TW Windows Slate that I tested a few months back by about 27%.
This score, which is thanks to a fast dual-core processor and the latest build of Android, puts the Tab 7.7 at the number 1 position on our Sunspider benchmark chart: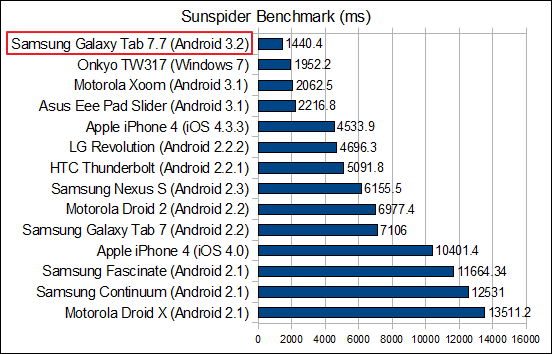 Chippy faily notes that Chrome has improved in performance since then so just I ran Sunspider on a fairly modern Atom based netbook (1.6GHz HP Mini 311 with Nvidia ION) and the scores are comparable with the Mini 311 scoring 1336ms, putting the Tab 7.7 only about 8% away from that score.
This is mighty impressive; here we've got the Tab 7.7 which is rated for around 10 hours of battery life, not to mention much longer on standby, and it has browser performance similar to a much larger netbook that has considerably less runtime. Intel might be in trouble…
Chippy Chimes In
Chippy was able to make a little time to share with us a quick audio log with some thoughts on the Tab 7.7 and the Galaxy Note. I'll let you listen for yourself, but I will say that I share many of his sentiments: