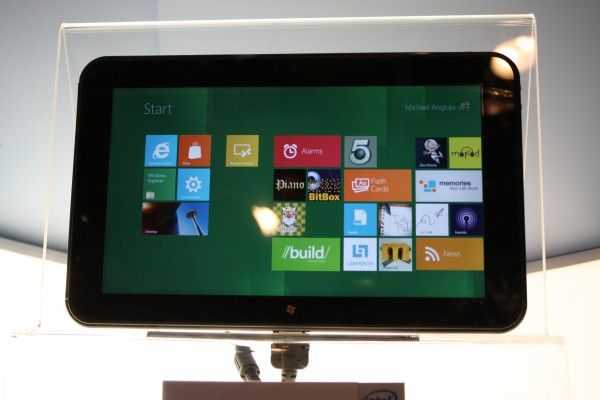 Intel was mostly hush hush about their upcoming Clover Trail platform, focusing instead on Medfield and Cedar Trail, but careful attention to some of the technical sessions at IDF last weak showed that this latest update to Atom is planned for 2012. Chippy caught a video of an early prototype of Clover Trail running Windows 8 which you can see at the bottom of this post.
Details are sparse but Intel has told us that the micro-architecture has been completely redesigned (this could mean a number of things, but you can bet that they'll be compacting the design to be able to fit more components on a single chip). Despite the redesign, the manufacturing process is still 32nm (currently available Atom products are 45nm). Expect to see 22nm in 2013 and 14nm in 2014. They've also said that Clover Trail will have better integrated graphics than prior series, which will be important to ensure that the silky smooth Windows 8 touch interface runs as such.
Intel is targeting this platform for use across an entire range of devices — netbooks, tablets, and hybrids (convertibles), which Intel sees picking up steam in early 2012. Now that Android is being fully optimized for use on x86, its possible that we'll see Android running on Clover Trail, but Intel may be designing Medfield specifically for an optimal Android experience.
Details on the device itself were equally thin. It is probably a reference design, just like Green Ridge (Oaktrail) and Red Ridge (Medfield). Windows 8 was running on the machine that we saw, but it was behind glass and we couldn't play with it. We do know that it was an LED, rather than LCD, display, which should help with battery life. The unit was as thin, if not more thin than the already quite svelte Medfield which sits at 8.9mm. Chippy expects such devices to be even more thin by the time they hit the market.  See the video below:
httpv://youtu.be/vtTe4GsiUeY