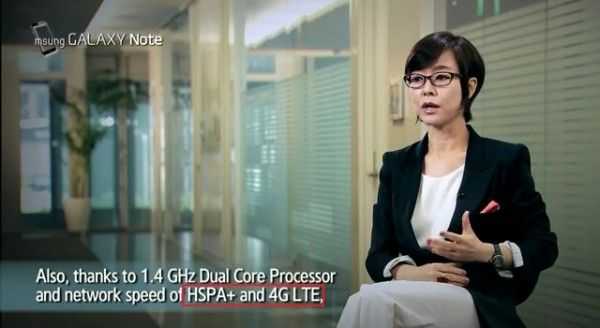 It was widely reported that Samsung's upcoming Galaxy Note would feature HSPA+, however, we've uncovered a video which may have let slip that the Galaxy Note will come equipped with 4G LTE, despite the official specs list not indicating as much.
The specs section of the official press release from Samsung lists only "HSPA+ 21Mbps 850/900/1900/2100" and "EDGE/GPRS 850/900/1800/1900" while the press release wording says LTE, leading to confusion over which portion of the release was accurate.
A rather unassuming video, found on Samsung's IFA 2011 site, features YH Lee, SVP and head of global marketing at Samsung mobile, saying the usual bits that you would expect from the head of global marketing — mostly unspecific information — except there is the specific mention of "HSPA+ and 4G LTE" (my emphasis) at 0:56, which corroborates the text portion of the press release.
It might seem that if the inclusion of 4G LTE is true, then the Galaxy Note would be coming to Verizon in the US, but it's important not to forget that the phone is presumably equipped with HSPA+ and LTE, which fits with AT&T as the company already has HSPA+ in place, and is in the process of rolling out its own LTE network. So Galaxy Note carrier availability for the US seems to be confirmed as AT&T.