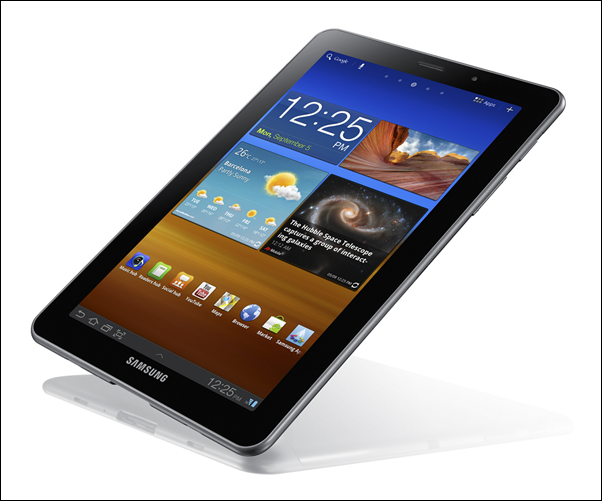 It's about time Samsung got a true successor to the Galaxy Tab 7 out the door. Today at IDF they've announced the somewhat leaked Galaxy Tab 7.7, which features one of the largest AMOLED displays ever seen on a consumer mobile device.
Please excuse the video title typo!
The CPU has been upgraded to a 1.4GHz dual-core CPU which is apparently of Samsung's creation, which they say can run 1080p video just fine along with DivX support; they've otherwise been quite quiet about the specifics so far. This sets the Tab 7.7 apart from most other Honeycomb tablets which use Nvidia's Tegra 2 dual-core CPU which runs at 1GHz.
The press release lists the RAM at 8GB, but I'm going to go out on a limb here and say that is a typo. We're probably looking at 1GB of RAM. On the capacity side, you'll be looking at your classic 16/32/64GB flavors with a microSD slot for adding even more.
From my experience with the AMOLED display on Samsung's Nexus S, I can say that I'm quite excited to see the Tab 7.7 in person. This is the first mobile device that I'd actually want to watch movies on. Thanks to the AMOLED technology you can expect the 1280×800 screen to have an exceptional contrast ratio when compared to other mobile devices (and even some TVs), most of which use LCD technology.
The Tab 7.7 runs Honeycomb 3.2 out of the box with Samsung's custom TouchWiz modifications, and they've brought the device down to an impressive 7.89mm thick and 335 grams (from the original 12mm thickness and 380 grams)! The back is made out of aluminum and the whole device does look impressively svelte.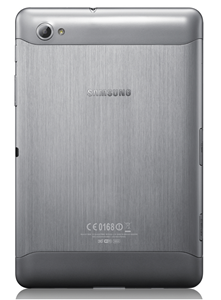 The cameras have sadly not seen a big bump in MP (just 3MP on the rear camera and 2MP on the front-camera), but it's quite possible that the optics have been upgraded. Both cameras have sufficient resolution for capturing 720p HD video, though Samsung hasn't clearly stated that the device will be able to record at such resolutions.
It sounds like initially the Tab 7.7 is going to be released with carriers, but we may eventually see a WiFi-only version, as we did with the original Tab 7.
The unit has HSPA+ connectivity, and Samsung's press release says it can make calls, but it isn't clear whether they are talking about true cellular voice calls or VoIP.
Like the Sony Tablet S, the Tab 7.7 has infrared built-in for remote control functionality on your TV and other IR equipped devices.
Samsung says that the Tab 7.7 supports something called "WiFi channel bonding inch which is used for "bonding two channels into one for improved network connection and data transfer at up to twice the speed inch.
If Samsung can keep the AMOLED display from making the device too expensive, they could have a big hit with the Galaxy Tab 7.7.