Though Sony's Tablet S has been known about for months now, today they finally unveiled official specifications for the device. While weight isn't the spec that everyone jumps at immediately, it's certainly an important factor for a large 10" tablet. Sony says that their Tablet S is just 595 grams, which makes it the second lightest of the top 12 tablets, right between the Samsung Galaxy Tab 10.1 and the Apple iPad 2 (with the Tab 10.1 being the lightest) – quite impressive considering that the Tablet S design isn't as thin as many of the other tablets on the market because of it's interesting folded shape, though it should count itself lucky to be considered a 10″ tablet when the screen is actually only 9.4″. Have a look at how the top 12 ten inch-category tablets compare: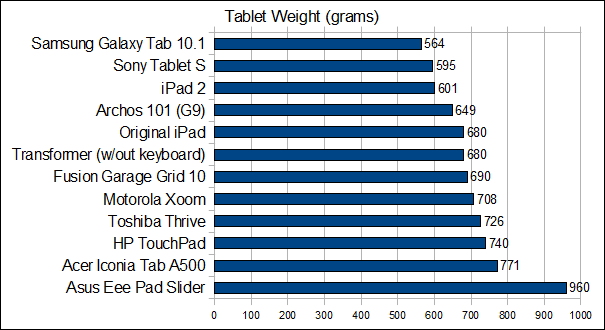 I would love to be able to say that tablets are getting lighter as time goes on, but as you can see, there are four Honeycomb tablets that were released after the first (the Xoom) that are actually heavier (though the Eee Pad Slider sort of has an excuse!).
The Tablet S is only about 1% lighter than the iPad 2, but Sony designed it with that funky shape specifically to make it feel lighter in one hand by grouping the weight on one side and reducing leverage again your hand. I'd be curious to see how much torque the iPad 2 puts on a hand vs. the Tablet S.