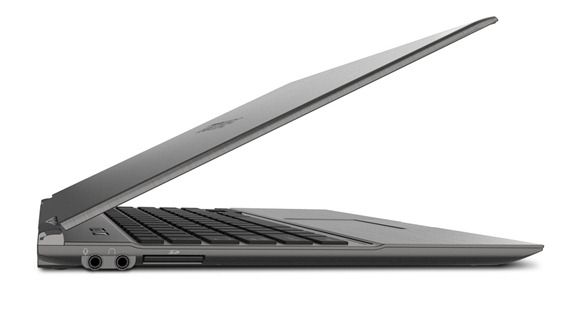 The Toshiba Portege Z830 is lining up to be one very interesting Ultrabook indeed. It's the lightest 13" model there is at an amazing 1.13KG [see Ultrabook weight comparison here by clicking 'weight column] and has a great line-up of ports and features. Even better news, and solving the mystery of why some people are reporting the casing to be structurally solid when we felt something a little wobbly at IFA, is the news that the casing is now a magnesium alloy and aluminum structure.
In the hands-on we had at IFA we saw a glossy screen which is now, as promised by Toshiba at IFA, a matt screen. Take a look at the video below where we get our first hands-on with the Z830 and try and guess the price at 1200 Euro. We should have believed the Toshiba product manager when he waved his finger at that!
In the stats we've seen from the site and from Google indexes the ASUS UX31 is leading in terms of interest but that could be because of the early showing at Computex. We're expecting the Toshiba Portege Z830 to catch up if not overtake the UX31 based on the brand and features.
Matt screen, Wi-Di, VGA, HDMI, Sleep 'n Charge USB and BT3.0+HS along with a backlit, spill-resistant keyboard and Dolby sound processing through stereo speakers make a great feature-set but it's the weight that we think is the killer feature. When we picked it up at IFA, it was much lighter than expected.
For customers that aren't so fixed on the specifications though, the price could be the deciding factor. Laptop Spirit are reporting a 999 Euro entry price which is a full 200 euro less than the expected €1199 price of the UX31.
As a package, this looks to be one of the best 13" Ultrabooks there is.
Toshiba Portege Z830 Specifications, links, video here.
Specs via Notebook Italia.
Souce article: Laptop Spirit