Lenovo gave us the U300S, Asus gave us the UX21 and UX31, Toshiba gave us the Z830 and Acer gave us  the Series 3 this week at IFA. Samsung launched the Series 7 tablet too. They all have one thing in common. No, its not the word 'Ultrabook', it's the word 'tablet.'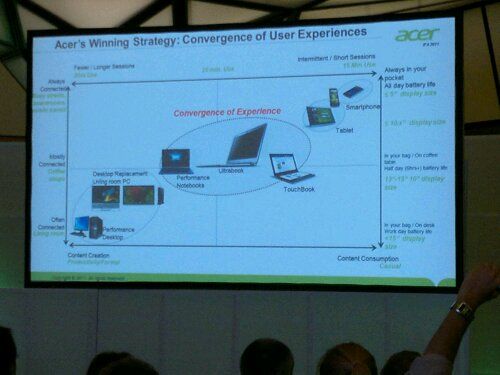 We'll get this weeks new Ultrabook details into the database as soon as possible but before that, let me give you my current analysis based on knowledge so far.
The tablet is truly eating into the PC space.
That's no surprise. In the developed world, home netbooks are going to be hit first. I doubt many of the millions of netbook owners will update to another netbook. Why would they? There's little difference today than there was 3 years ago. A dynamic, touch and app-enabled product is a much more likely choice.
It's happening in the office space too where iPad experimentation is revealing some efficiencies.
What it means is that while Intel tries to push into the mobile space, they are also putting huge effort into re-architechting their notebook business to pick-up where the tablet can't reach. Re-positioning is required. They're building a second attack strategy. Or possibly a safe fall-back position.
To stay at a safe distance from Tablets requires leading edge silicon to create desktop-class power in a feature-rich laptop that does things that a $500 tablet won't be able to do for a long long time. Graphics, wireless video, high-end connectivity, advanced security, sensors and even better battery life than tablets. Style and portability mean they become every bit as personal as the tablet. As end-users look to swap-out the low-end laptop and upgrade the desktop, it could mean a complete change to Tablet and Ultrabook for many. The total cost of ownership there is similar but the flexibility is way higher.
Of course, Intel don't want to tell you that you can replace your desktop with an Ultrabook but unless you're doing some serious a/v or calculation work, a home network storage unit, large screen and Ultrabook makes much more sense.
Acer, Asus, Lenovo, Toshiba and others are responding already. Intel skillfully managed to see this years ago as they developed the roadmap to Windows 8 devices and beyond, bought Macafee, bought Infineon wireless and developed silicon for thermal feedback, video encoding, power saving and trusted delivery of high-value film content.
There's little chance that any ARM architecture can touch this leading technology in the next 10 years. Intel's current CPU technology is 5-10 times more powerful, arguably more efficient (See HUGI) uses advanced manufacturing processes and will be capable of running all the features of Windows 8 from touchscreen snackable games to high-end business software. You can guarantee that Intel and Microsoft will solve the always-on and application store issues too. Appup, the delivery channel that was developed for Windows and Meego devices could be a big advantage if it's re-purposed for the laptop market. At IFA it was already installed on the Series 7 Slate I tested in the Samsung Lounge.
There's another reason that Ultrabooks are important  too. What if Intel fails in the important mobile market? It's looking more and more likely as platforms and software continue to miss the mark. Moorestown missed the mark, Meego is struggling and Android is becoming a risky business. Even if Medfield is good enough, what operating system will be used? It has been suggested that Windows Mobile will be a target for Intel. With Microsoft developing Windows 8 for ARM, an x86 port of Windows 7 Phone would certainly appease Microsoft biggest partner but it would be another time-consuming change for Intel.
Ultrabooks are clearly going to be an important entry-level PC for a lot of people. Whether the Ultrabook accounts for 40% of the laptop market (currently around 100 million) in 2012 depends largely on the price. Right now there's a lot of new designs, materials and tooling cost but when that's done, it's all about Windows 8. I'm wondering if a switch from desktops to Ultrabooks in the big Windows 8 upgrade phase could contribute to the numbers. 40% may well happen if the prices drop from the €799 that we've already seen.
And what about AMD? I don't see them competing in the sub 20w TDP space for a while. Their 18W E-Series Fusion part competes on graphics but not on raw CPU power and the 'features' list is way shorter. It's likely that they will fill a simpler, low-cost segment. AMD are probably happy having part of the 60% left over!
IFA was the Ultrabook launchpad but only for phase one. Next week we go to San Francisco to learn about phase two, three and possibly learn more about Intel's mobile and laptop push – or defensive stances depending which way you look at at.
[ Posted via the Galaxy Tab. Ultra-Mobile at IFA 2011. For more IFA coverage, follow me on Twitter. @Chippy ]